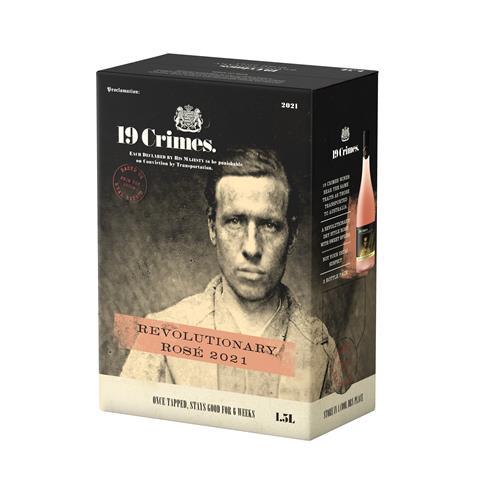 Treasury Wine Estates is to add 19 Crimes Revolutionary Rosé in a 1.5l bag in box format.
19 Crimes Revolutionary Rosé (13.5% ABV) is a dry-style rosé, featuring lifted red berry flavours and a slight floral note, finished with sweet spice and encased in a unique box design. The 1.5l bag in box holds two bottles of wine which can be savoured for up to six weeks once opened, and like 19 Crimes wines in bottle, it features AR technology on-pack with 19 Crimes' roguish character, Robert Cranston coming to life via one of TWE's famous Living Wine Labels. The box is sustainable and more environmentally friendly than transporting glass bottles.
Treasury Wine Estates will be supporting the launch of 19 Crimes Revolutionary Rosé 1.5l BiB, with an integrated marketing campaign which will include in store activity, social & influencer engagement and PR over the summer period.
Ben Blake, head of marketing EMEA at Treasury Wine Estates, said: "Since the launch of 19 Crimes Red Wine 1.5l BiB last year, the brand has added £35.9m to the category, generating a value increase of +45.8% and growth in volume of +48.3% vs the previous year2. Extending Revolutionary Rosé to bag in box was therefore an easy decision; offering consumers one of the strongest performing summer wine styles in an increasingly desired format that is sustainable and complements a wide variety of summer drinking occasions, given the volume and six-week shelf life. We expect this new product to recruit more millennial consumers and encourage repeat purchase of this much-loved brand."