With consumers being advised not to go to the doctor for cold and flu treatment, many are opting to self-medicate with pills and potions purchased from their local c-store.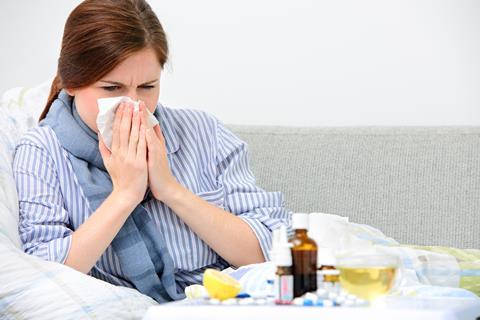 Thought that the queue for the store's post office counter was looking a bit long? That's nothing compared with the line outside your local GP's surgery this morning. NHS England's 2019 GP Patient Survey found that 68.3% of patients can't get through to their surgery by phone. Hence the early morning rush to grab an appointment in person.
Sadly, with winter sniffle season looming, this situation could get a whole lot worse. And with the government advising people to avoid their GP surgery for everyday colds and flu, those with minor issues will need somewhere to go to relieve their symptoms. This opens up plenty of opportunities for your OTC medicine selection. For convenience stores there's the chance to provide trusted medicines that help customers tack body to soul and face another day.
Rosalind Mensah works at Spar in Karsons Pharmacy, Rochester, Kent. She's currently training to be a pharmacist herself, so the counter offers a shopfloor insight into her future customers.
"In the store we have a pharmacy section where people can come in and get their prescriptions," she says. "Then we have an added convenience part. That's where our regulars drop by to pick up their newspapers and other stuff – plus any OTC medicines. The two sections tend to complement each other really well."
This dual set-up is particularly effective during cold and flu season. That's when the pharmacy zone can drive sales of certain products customers can't necessarily get on prescription.
"One thing we always tend to have during the winter is NHS information about colds and flu on the in-store noticeboards," she says. "While people are waiting to see the pharmacist, that helps them think about the medicines they can buy later that might help them deal with their symptoms."
Whether they're embedded in a pharmacy or not, the key category for c-stores is analgesics. Mintel reports that growth in the category during 2018 nudged up the size of the market to £1.28bn. This was despite slightly declining sales of branded cold and flu remedies.
With this in mind, c-stores can offer a unique proposition to under-the-weather shoppers. When people are on the go and need something to sort out a headache or cold, they'll pick painkillers up locally and continue with their busy lives rather than resting up.
"If someone has a headache they're not going to particularly care how much they spend on a packet of paracetamol to deal with it," says Dennis Williams from Broadway Premier Store near Edinburgh. "They just want their headache to be gone so they can go about their business.
"In c-stores it's a different sort of market to a chemist. We can help people out when the chemist is shut. For example, our local chemist shuts at 5.30pm, and all day on a Sunday. We're open that little bit longer for when people need us."
Jamie Keshwara, who owns Nisa stores in Cambridgeshire and Norfolk, agrees that c-stores offer something different for poorly customers scouring the high street.
"I think it's really two different kinds of market offering different things," he says. "People know what they can get from a chemist and what they can get from a convenience store. If customers want easy parking, and to pick up some other bits along the way, such as bread and milk, then they'll come to us for their medicines.
"However, if they want something specific, and maybe a bit of advice about what to choose, then they'll go to the chemist."
In the past, one of the major debates around OTC medicines was whether they worked best behind the counter or out on the shop floor. Merchandising has evolved as shop formats change and cigarettes become increasingly hidden in favour of other categories.
Today, a high number of retailers agree that setting OTC medicines free around the store makes for the smartest solution, just so long as you can keep an eye on them from the counter.
Jakemans invests in brand awareness

As the temperature plummets, menthol confectioner Jakemans is pumping £1.9m into a TV campaign to heat up sales during winter. The activity will be supported by an out-of-home advertising campaign in London.
"With the NHS recommending that minor winter ailments – such as a sore throat – are treated without advice from a GP, there will be greater demand this cold and flu season from the consumer for self-care solutions that ease the symptoms of sore throats," says Elizabeth Hughes-Gapper from Jakemans.
"This includes sweets which contain menthol – an ingredient that releases natural vapours to help soothe the symptoms of a sore throat and keep airways clear."
The challenge for manufacturers in this market is offering a functional product that still retains a bit of confectionery fun.
"Research shows that 30% of consumers made their purchase choice of sweets based on the product having assorted flavours (Mintel), therefore convenience store operators should consider stocking a range of flavours to help encourage sales," says Hughes-Gapper.
The Jakemans range includes a range of seven flavours, from its Throat & Chest through to Cherry, which has recently been added to its stick pack range.
Out on view
"You've just got to have them on the shop floor where customers can see them in the first place, or they won't think about them," says Dennis.
"I think one of the big barriers has always been shoplifting. But, to be honest, if you're going to have shoplifting then it's going to be across alcohol and things like that, too. And medicines are high-margin products for us, so they're definitely worth stocking.
"I think it's actually very much like batteries, for us. People only buy them if they can see them. When we moved batteries to the shop floor sales went up 40%, and there's the same potential for medicines if you do it right."
Jamie says he tends to put them in front of the counter in most of his stores. "It does make it much easier for the customer to get what they want.
"We trialled it in our in stores and it depended on how much stock was being 'lost', and that depended on the location."
The other ongoing battle in medicines is between branded and generic products. There's been a lot of noise over the past year about the similarity between the two (and a BBC documentary on the subject). Yet at the counter, it all comes down to what the customer prefers. And that's not always the cheaper, unbranded option.
"We do two branded and two generic painkiller products," says Jamie. "I do try to sometimes steer people towards the generic stuff (since it's basically the same product). But they often want to stick with the brand because they're used to it."
Rosalind believes that much of the decision is down to marketing, rather than the product's actual effectiveness.
"I find that the majority of people are absolutely okay with generic medicines," she explains. "But there's always people who want the brands, just because they've seen them all advertised on TV."
Of course, the way for branded products to get an edge would be to come up with something so new and distinctive consumers just couldn't say no. Any retailer who's pondered how comprehensive their OTC selection is knows this ain't easy.
In fact, Mintel says that the cold and flu remedies market is locked into "a holding pattern" with slow overall growth.
In conversation with retailers the same brands– such as Nurofen and Benylin – come up constantly. And it's those that they stock year in and year out.
In terms of new products that could offer potential, Mintel points out there's an opportunity for brands to get ahead by reducing sugar on lines such as cough syrup, especially in children's and family-focused products.
Meanwhile, it's important to remember that OTC isn't solely for winter remedies. Jamie says that it's now 'a year round thing' – and other retailers agree.
"There's lots of different times when customers need these products," says Rosalind. "This can be anything from eye drops for people who have allergies or hay fever. And lines like insect repellent for families going away on holiday."
Your selection edit could depend on your customers' missions, and retailers near transport hubs or travel hotspots can do well by stocking up on sleep aids, breath products and hangover cures. Meanwhile, those in more residential areas could win big with family-focused products.
Dennis says that it can be helpful to locate OTC medicines alongside complementary categories.
"The medicines we do tend to get go right next to personal care," he says. "So on one end you've got the children's cough syrups and medicines. They're always important when families come in. Then that goes into things like plasters and deodorants. It's the everyday items that people need on the go."
Put simply, if you've got the right products you can be a life-saver for someone who's just trying to get through their day with sore eyes, achy brain or snot-saturated nose.
Plus, you might also play a key part in some of life's more memorable moments too.
"One thing that's quite big for us is pregnancy tests," says Dennis.
"You can often tell it's for them because they tend to put it in their basket and claim it's for someone else!"
GSK offers advice on achieving 'sick' sales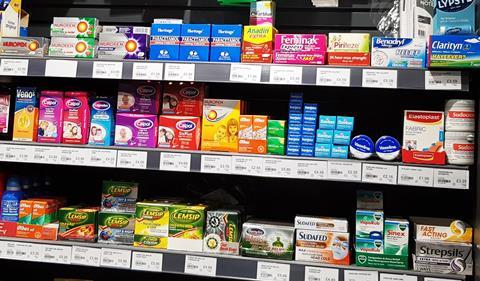 OTC healthcare in general is seeing strong growth with £118m being added to the category year on year (2019 Nielsen data, units + value, Allergy [client defined] 52 w/e 10 August 2019, GB Total Coverage). This accounts for a growth of +4.3%, which GSK says provides "a fantastic sales opportunity".
GSK Healthcare has the following advice to help maximise sales:
Offer a well-stocked range of OTC medicines all year round, as people suffer from summer colds and winter allergies outside of the traditional seasonal peaks
Drive impulse purchases through cross-merchandising complementary products such as tissues, lip balms and medicated confectionery
Stock up from October onwards and restock the fixture following the busy Christmas period, as January and February are also key periods for cough and cold remedies.