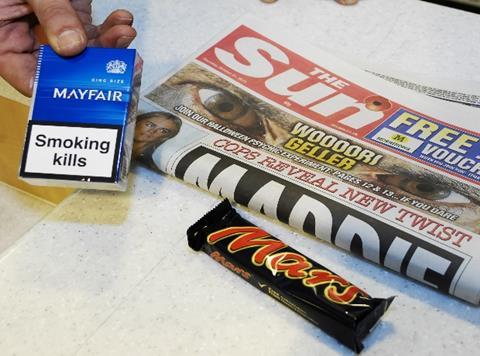 Statistics surrounding the CTN shopper mission follow the old good news/bad news scenario. According to HIM Research & Consulting's CTP 2014 study, which includes newspapers, magazines and tobacco products but not confectionery, the percentage of shoppers on a newsagent mission has declined 5% since last year (from 31% to 26%), but it's still the second biggest shopper mission, behind the top-up shop.
And shoppers on a newsagent mission spend on average £5.71 per visit, which is less than the £6.13 spend of the average c-store shopper, however although they spend less per trip they are the most frequent visitors to a convenience store - dropping in 4.4 times a week on average - and as a result are very valuable over the course of a week.
Stop the presses
According to the latest ABC figures, sales of the UK's best-selling newspaper, The Sun, fell below two million a day in October, down 8% year on year to 1.97 million copies. Number two best-seller, the Daily Mail, fell 5% to 1.66 million.
The Times, with a circulation of nearly 400,000, was the only national daily to see growth - up nearly 1% year on year.
In the Sunday papers market, The Sun on Sunday leads the way - but only just. It sold 1.62 million copies per Sunday in October, but the Mail on Sunday was just behind it with 1.5 million copies sold. Again both papers' circulation was down year on year.
On the magazine side of the category, TV listings mags are still the UK's best sellers with the latest ABC stats (August 2014) putting TV Choice at number one with 1.3 million copies sold - up 1.6% year on year. Second is What's on TV with just over a million copies sold, then Take a Break with 650,000 copies sold. The rest of the top 10 comprises Radio Times, Slimming World, New!, Closer, Glamour, Chat and Woman's Weekly. But the Radio Times is the most valuable title, worth an estimated £46m versus TV Choice's £18m.
What is more, 34% of these shoppers visit every single day. So, when you analyse all the figures, you find good news prevails with newsagent shoppers still worth a whopping £8.1bn to the UK convenience industry a year.
Karen Gentle of M&B Newsagents in Gillingham, Kent, confirms that people still go into her shop every day for their newspapers, so she's making the most of it while she can. "We do ShopSave so some customers will just come in and collect their paper and that's it, while others will buy other things as well while they're there - typically cigarettes. But newspaper sales have definitely gone down so we've had to cash in on other categories. We've a lot of student customers so we now have a range of frozen food, for instance."
Shelley Critchley of Croscombe Village Stores in Somerset says a lot of her customers come in for the same newspaper every day. "Those who come in first thing on their way to work tend to just pick up a paper, while those who come in later in the morning will pick up items such as bread and milk as well. The Daily Mail is a big seller for us but The Sun is not as popular - we only have nine a day."
It's a different story altogether at Richard James Newsagents in Workington, where owner Richard says The Sun is by far and away his best-seller. "We open at 5am and from then on we get people coming in for their daily paper. Many use the ATM outside and come in with a £10 note to pick up a newspaper, sandwich and a drink. Which paper sells best depends on your location. My son has a store in Swanage and he sells loads of Telegraphs, whereas I'm lucky to sell five a day."
Shelley concedes that tobacco is still a footfall driver for her store, albeit not as much as it once was, while Richard says his cigarette sales are 'phenomenal': "For me, the sales are as strong as ever. I deal direct with Imperial Tobacco so that says it all really. I get a monthly delivery from them.
"My best-seller used to be Lambert & Butler, but it's now JPS Blue in the pricemarked packs - they fly out. I just had one man come in and buy 60 from me, but we still get people who come in daily and buy 20 at a time."
Confectionery is another strong seller for Richard, who says the three categories - confectionery, tobacco and newspapers/magazines - still complement each other.
At Karen's shop in Gillingham, bagged sweets are very popular. "But we also do the jars of sweets. A lot of older people come in for them. We sell them at £1.09 or £1.19 for 100g, but they are being eaten by youngsters, too, as we get nans coming in with their grandchildren to buy them."
But it's granddads rather than nans who are key to the newsagent mission as HIM's data reveals that generally shoppers on a newsagent mission are more likely to be male (61%) and typically older - more than a third are retired.
Blake Gladman, research director at HIM, says newspapers and cigarettes have always been a good footfall driver: "They guarantee steady footfall, with people visiting four or five times a week. The focus for retailers should be on keeping hold of those shoppers."
Market data
13% of shoppers say their main reason for visiting a c-store is to buy cigarettes - a figure that has been consistent over the past three years. Cigarettes remain the number one footfall-driving category to convenience stores
19% of shoppers purchase cigarettes and tobacco from a convenience store
Shoppers purchase 40% of their total cigarette and tobacco needs from a c-store
The cigarette and tobacco shopper spends on average £10.19
The percentage of shoppers buying newspapers and magazines in c-stores has declined over the past three years,¬ from 28% in 2012 to 23% today, but it remains the second biggest footfall driving category. Shoppers still make 25% of total paper purchases at c-stores
The percentage of shoppers buying confectionery in c-stores is static at 18%
Confectionery shoppers spend more than the average c-store shopper (£6.44 vs £6.13) and purchase more items (3.7 versus 2.8)
Confectionery shoppers visit 3.3 times a week (less than the 3.7 average) but spend more time per visit - 5.3 minutes versus the five-minute average.
Source: HIM CTP 2014
It's a tricky one, what with the long-term decline in the number of smokers, the transfer of news-papers and magazines online, and the new war on sugar and trying to get consumers to cut their consumption. However, Gladman reckons it can be achieved.
"C-store retailers need to give shoppers new reasons to come to their stores by looking at new ways of gaining footfall, such as click and collect," he says.
Blakeman adds that a lot of CTN shoppers head straight for the till so you need to find ways of interrupting them, and once they are at the till use the opportunity to upsell.
One store that does this is WH Smith and it seems that all its staff are encouraged to ask every customer whether they'd like some cut-price chocolate while they're at the till. However, it may have backfired as many people have turned to the internet to voice their unhappiness at the way the chocolate is 'forced upon them'.
But upselling at the till does not have to be so blatant. Gladman points to innovative solutions that make the most of the limited space at the till - he says he's seen mini chillers built into the counter that work well in getting people to pick up a cold drink.
"Because so many newsagents' shoppers are habitual, they're on autopilot and retailers need to engage with them. That doesn't necessarily mean up-weighting the spend on that newsagents mission - they could engage and inspire them to come back later on a different mission. For instance, if they saw a good display of evening meal solutions while they were buying their paper, they might come back later for something."
It won't be easy, though. The HIM data reveals that those on a newsagent mission shop with 'tunnel vision' - 86% say they will only buy the product they intended to buy, and nearly one in two will buy only one item. Less than 10% currently buy anything on impulse (lower than every other shopping mission). And these shoppers are the least likely to notice any signs or messages around the store - Gladman says less than one third of them notice any.
"There is a big opportunity to drive incremental purchases, but you'll have to make it easy for them through techniques such as staff upselling and linked purchase deals at till."
He also believes that retailers can benefit from shoppers' impulsive natures. "There's an opportunity to focus on driving the impulse spend of these regular newsagent shoppers because they visit nearly 230 times a year."
Perhaps the way to do this is via the confectionery category - not necessarily chocolate, but mints and gum. Susan Nash, trade communications manager at Mondelez International, says: "Impulsivity is key to opening up sales opportunities and driving that extra purchase in your store. Retailers can really benefit from great merchandising and display geared towards categories that are the most impulsive - and confectionery is one of them."
As for the future, Gladman maintains that newspapers and cigarettes remain critical footfall drivers to c-stores, especially symbol stores. "The supers are focusing on fresh so the symbols have a chance to steal newsagent shoppers from them. Also, with tobacco going dark, stores that don't manage the change well are at risk of losing shoppers. There may then be the chance of a 'footfall grab' for those who communicate and execute the display ban well."
The Sun shows some balls
The Sun put naked* men instead of topless women on Page 3 for the first time last month to promote its Feel 'em Friday campaign to raise awareness of testicular cancer. *The men held strategically placed footballs!
Digital Rolo campaign
Five new YouTube films ask consumers whether they love anyone enough to give them their last Rolo. The videos, which can be viewed at www.youtube.com/RoloOfficial, are designed to appeal to a new generation of consumers as well as the brand's current target demographic of men and women aged 35-years plus.
STG helps retailers get ready for display ban
Scandinavian Tobacco Group UK (STG UK) is releasing a second edition of its Gantry Guardians Guide to Tobacco to help retailers get ready for the display ban in April. It provides concise information and useful tools such as a countdown calendar, highlighting the actions retailers need to take each month before the market goes dark.
Limited-edition packs for B&H Gold
JTI has launched a series of 'British Tailoring' limited-edition packs for Benson & Hedges Gold. The three designs mimic classic suit patterns to highlight the style, luxury and quality of the cigarette brand.
Brand watch
Imperial Tobacco is celebrating over 100 years of Lambert & Butler with the launch of a limited edition pack. The special design, which features speech bubbles, is printed on the external wrap of the L&B silver range.