GSK brand Aquafresh is rolling out fruit-flavoured toothpastes for children and adults to all retailers this month.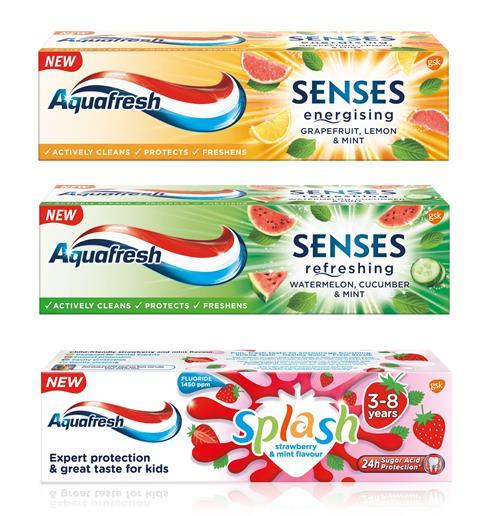 Aquafresh Splash is a strawberry & mint flavoured toothpaste for children aged 3-8 years old, aimed at making tooth brushing a pleasurable experience for those that don't particularly like mint-based toothpastes and subsequently avoid taking good care of their teeth.
The product is available in 50ml (rrp £1.55) and 75ml (rrp £2) sizes.
Ben Court, senior brand manager for Aquafresh at GSK, commented: "Almost 40% of children brush their teeth for less than one minute. This can lead to stressful mornings and evenings for both parents and children and we believe that the introduction of a fruit flavoured toothpaste that is coupled with mint is the perfect way to relieve such tensions and increase brush time, but also help transition children onto minty pastes when the time is right."
The second new product, Aquafresh Senses, is aimed at adults and is available in two flavours: Energising grapefruit, lemon & mint and Refreshing watermelon, cucumber & mint. They are supplied in 75ml tubes (rrp £2).
The products have been available at Asda since March, but are now being rolled out to the rest of the UK trade.
Court added: "Our mission is to make brush time a pleasure rather than a chore for both adults and children alike. The launch of Aquafresh Senses & Aquafresh Splash will bring a refreshing and exciting aspect to the teeth brushing routine while assuring shoppers that they are receiving the care and protection they would expect from one of the UK's leading oral care brands.
"The market offers a multitude of oral care products that meet a range of different needs, however almost all of these products centre around one particular flavour – mint. We want to shake things up and give shoppers a fresh experience, one that is bursting with flavour."