Vaping remains uncommon among young people and is not acting as a gateway to youth smoking, new YouGov research commissioned by Action on Smoking and Health (ASH) suggests.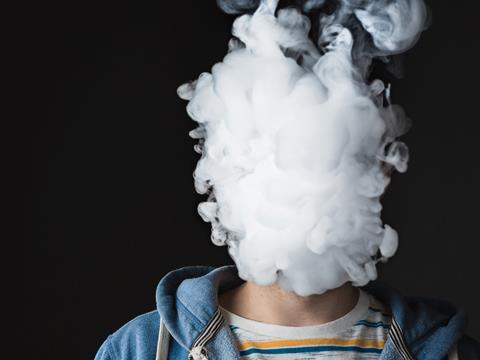 The number of 11-18 year olds who said they had ever tried vaping actually fell marginally in the last year, from 16% in 2018 to 15.4% in 2019.
The proportion of young people who said they vaped regularly (once a week or more) is also down slightly, and only 0.6% said they vaped daily compared to 0.9% in 2018.
There has however been a slight increase (from 3.4% to 4.9%) in young people who claimed to vape occasionally, or less than once a week.
The data also suggests that regular use of electronic cigarettes (e-cigs) remains largely confined to current or ex-tobacco smokers - the overwhelming majority (93.8%) of 11-18 year olds who have never smoked have either never used an e-cig (87.8%) or are not aware of them (6.0%).
Only 5.5% of young people who had never smoked had ever tried e-cigs and not a single young person who had never smoked a cigarette reported vaping daily.
The majority of young people who had never smoked but had vaped said the main reason was, "just to give it a try," while only 0.5% said it was because they thought vaping looked "cool".
However, the survey did also reveal that an increasing proportion of young people incorrectly believed that e-cigs were as harmful as tobacco cigarettes.
The proportion of young people who incorrectly said that e-cigs had "about the same" level of harm as tobacco cigarettes has grown, from 21% in 2015 to 30% in 2019.
For the first time in 2019 the survey also asked where young people usually got their e-cigs from, allowing more than one option to be chosen.
Overall 61.9% of young people said they bought them: shops, including newsagents, tobacconists, forecourts, supermarkets and "other types of shops" the most common source of supply at 44.4%, followed by the internet at 24.5%.
For the 35.2% who said they were given them, the most common source was from friends at 24.5%.
ASH chief executive Deborah Arnott said: "We need to be vigilant and continue to monitor e-cig use among young people.
"However, smoking prevalence among children and young adults in Britain has fallen substantially since 2010, which doesn't indicate that vaping has been a gateway into smoking.
"And to date there is little sign that vaping is the 'super-cool' phenomenon among young people here that it is said to be in the USA."
UK Vaping Industry Association board member John Dunne added: "These latest statistics continue to disprove the assertion that vaping is a 'gateway' to smoking as smoking rates and exposure to tobacco harm continues to fall.
"Vaping is in fact helping people to make that switch as it is 95% less harmful than smoking and recent research has shown that vapers are three times more likely to quit than those who don't vape."