Convenience stores in Yorkshire have been providing a vital home delivery lifeline to customers affected by the ongoing flooding.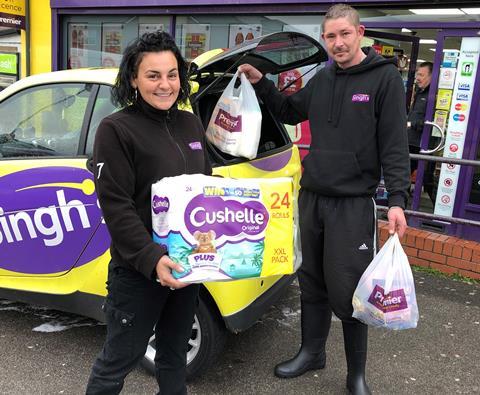 Sheffield city centre, Doncaster and Rotherham – along with parts of the East Midlands - are among the areas hit by major flooding after rivers burst their banks.
Mandeep Singh, who owns four Premier stores across Sheffield, said his staff (pictured above) had been flat out delivering groceries to customers who could not easily leave their homes.
On Thursday alone, they utilised the business' two smart cars and two vans for approximately 90 home deliveries, nearly treble the average 30-40 daily deliveries.
"The staff were soaked through but they all had a smile on their face, because they were able to help our customers," Mandeep said.
"There were also quite a few deliveries we couldn't do where it was too flooded, even though we have 4x4s. We'll be able to get in once the flooding subsides."
As a result of the deliveries, basket spend increased from an average £7.61 to £9, even though footfall was down in store. "Some of the orders were from people whose online supermarket orders – Asda, Tesco and Morrisons – had been cancelled, so we were able to pick up some of that business too," he said. Deliveries to his stores have been unaffected, he added.
Mandeep also attributed the high demand for his delivery service – which is used from three out of four stores – to social media.
"It all boils down to social media -we have over 15,000 followers," he said. "Amazon are trying to cut down barriers and we need to be doing the same."
Elsewhere in Sheffield, Go Local Extra retailer Jai Singh also assisted customers with home deliveries in areas where road were close. In store sales were also high, with bread and milk selling out early, with customers shopping locally.
Kopi Kalanathan, owner of Costcutter Kirk Sandall near Doncaster, has been advertising a free home delivery service (minimum £15 order) on Facebook, to residents within three miles of the store.
"The home delivery offer has been very well received, reaching about 3,000 people on Facebook. We delivered about 15 orders over the weekend, mainly to elderly people who were flooded in. We will now offer the service on a permanent basis," he said.
"Also, some customers who shopped with us in store said their online supermarket orders had been cancelled."
Chris Taylor, owner of Taylor's of Tickhill, also near Doncaster, has been delivering to flooded homes in the village. "Someone came limping in to the shop, so we drove him and his shopping back in the van," he said.
The Environment Agency has issued five severe flood warnings on the River Don in South Yorkshire, and a further 39 flood warnings across Yorkshire and the East Midlands.