Tobacco retailers will have to apply for unique codes before they will be able to order tobacco stock under new 'track and trace' tobacco controls, designed to help curb the illicit trade.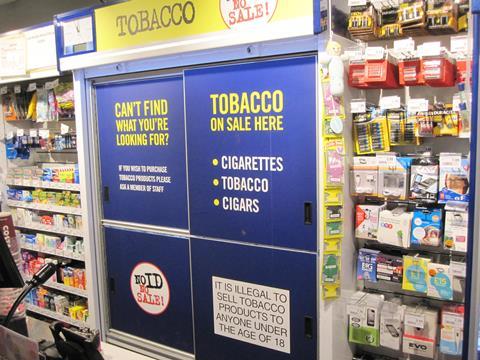 Due to come into effect on 20 May 2019, the new legislation forms part of the European Tobacco Products Directive (EUTPD) which introduced new health warnings and pack size restrictions last year.
It will require store owners to apply for an economic operator infrastructure code (EOIC) and facility identifier codes (FICs), in order to place an order for tobacco stock.
The new track and trace provisions are designed to tackle the illicit trade and protect tax revenues.
Under the new rules, tobacco packaging will be marked with visible and covert security features, on all products from individual packs of cigarettes and hand-rolling tobacco to product cases, outers and container loads.
The security tags will be scanned several times during the supply chain, including when tobacco products are delivered to stores.
Retailers will be required to apply for an EOIC and one or several FIC codes, depending on how many stores they own.
Speaking at the ACS Responsible Retailing Forum in Birmingham last week, Neil Pedersen of the tobacco policy team at HM Revenue & Customs (HMRC) said: "The directive is clear on the deadline but there is a one-year sell through period that will allow retailers time to get used to the changes."
He said it was unlikely that retailers would be able to apply for their unique codes before the start of next year.
Pedersen admitted that it was "a very challenging timeline".
Government consultations on how to implement the new directive are not due to be completed until later this year.
The unique codes may also be withdrawn under "duly justified circumstances", such as a retailer being caught selling illicit tobacco, although HMRC has yet to decide on the exact details of these restrictions.