Responsible tobacco retailers have been reassured that they will not face sanctions for transferring tobacco products between their stores, or trading with each other, once new Track and Trace laws come into force on 20 May.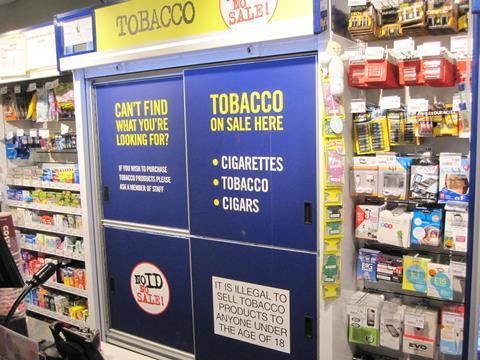 Forming part of the EU Tobacco Products Directive, the Track and Trace regulations are designed to curb the illicit trade by introducing a new method of tracking the sale of legitimate tobacco products through the supply chain, and will require retailers to apply for two unique new codes which they will need to buy tobacco.
Concerns had been raised that once the legislation was in force, it would be illegal for retailers to move tobacco between their stores, or to buy from or lend stock to other store owners.
However, an HM Revenue & Customs HMRC spokesman told Convenience Store that a retailer with multiple sites "would not face penalties for transferring stock between their stores in order to manage availability."
In addition, "in circumstances where a responsible retailer has unexpectedly run out of tobacco products, they will still be able to buy tobacco product off another retailer without having to report the transfer of tobacco product between the two businesses and facilities," he added.
"Where the transfer of tobacco products forms part of a trade between businesses or internal distribution along the tobacco supply chain, then the reporting requirements would have to be met."
Last week HMRC revealed that it had appointed De La Rue (the world's largest designer and commercial printer of banknotes and passports) to implement the new Track and Trace system.
Key details of how and when retailers will be able to apply for their codes will be provided shortly, and codes will be issued to retailers within two days of application, the spokesman added.
"De La Rue will be providing details about the process for requesting the identifier codes including timings in the coming weeks.
"The tobacco track and trace regulations places an obligation on the ID Issuer to transmit the identifier codes to retailers within two working days of the request.
"A key requirement for securing the contract was the provider's ability to meet the regulatory obligations of the ID Issuer," he said.
The five-year contract will see De La Rue create and manage a new digital solution to track and trace the 1.7 billion tobacco packs sold in the UK each year, from the point at which they are manufactured to when they are sold to stores, via a unique alphanumeric code which will be printed on each pack.
According to UK government estimates, the illicit tobacco trade accounts for 15% of the cigarette market and 28% of the hand rolling tobacco market in the UK.