The Scottish Economy, Energy and Fair Work Committee has offered its unanimous support for the general principles of the 'Protection of Workers Bill'.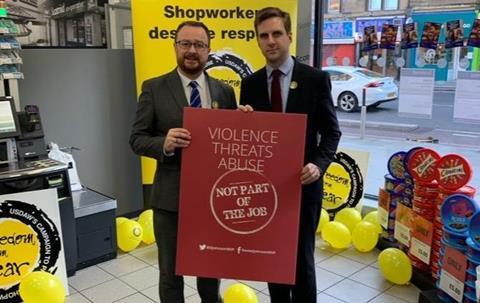 The Bill, which seeks to increase protection for retail workers, was introduced by Daniel Johnson MSP and will give shop staff additional legal protection when carrying out their work, particularly in relation to assault or abuse in relation to a mandatory activity such as requesting ID for age restricted products.
Committee convener Michelle Ballantyne MSP said: "Retail workers have always played a key role in Scotland's communities; however, the role that they have played over the last few months has been phenomenal. More than 375,000 people in Scotland work in the retail sector and all of them deserve our thanks. They have been at the heart of members' consideration of this bill.
"The abuse that retail workers face every day just for doing their jobs is completely unacceptable. Each incident is one too many and the Committee welcomes the bill's aim to provide greater protection, especially where retail workers are enforcing age restrictions. Abuse must be taken seriously and crimes must be reported to ensure that these matters are given the priority they deserve."
The Parliamentary Bureau will now schedule a vote in the Chamber for some time after the summer recess.
The decision was welcomed by the Scottish Grocers Federation (SGF). The SGF has supported the Bill throughout the parliamentary process and in March of this year CEO Pete Cheema gave evidence directly to the Economy Committee on why it needed to support the Bill.
In a statement, Cheema said: "This is a positive result and it marks a step forward in securing a safer in-store environment for shop staff. Daniel has shown outstanding tenacity and commitment in taking this forward. However, we cannot allow complacency to derail this once in a generation opportunity: much work needs to be done in securing the support of MSPs when they vote on the Bill. With the help of our all members we know that this can be achieved."
Association of Convenience Stores (ASC) chief executive James Lowman said: "Retailers and store colleagues are most at risk from violence and abuse when carrying out their daily work; enforcing age-restricted sales policies, refusing to serve intoxicated customers and trying to prevent shop theft.
"We have been delighted to support the Scottish Grocers Federation in their campaign for the changes to the law that this Bill includes. We're very pleased that the Committee has approved the general principles of the Bill, creating a new statutory offence for attacks on shopworkers will send a clear message to offenders that these incidents will not be tolerated."
The ACS recently urged more support for retail workers facing verbal and physical abuse.