Sainsbury's has launched its first entirely checkout-free convenience store, as trials of its 'Smartshop Scan Pay & Go' app technology continue.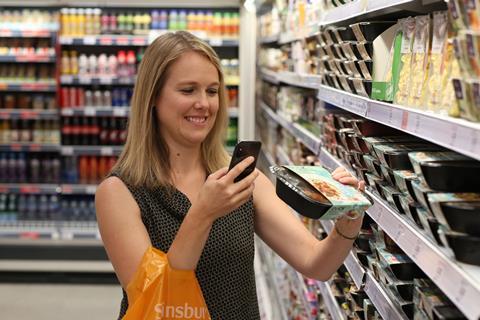 The Sainsbury's Local store in Holborn Circus, London, where 82% of transactions were cashless prior to the start of the trial, has been fully refurbished, with the checkout area and tills removed.
A new food to go-focused range of products and a self-service coffee machine has also been introduced.
Customers using the store can scan their groceries as they shop using the app, which they download on their smartphone.
Payment is made via the app by scanning a QR code before leaving.
The change has freed up store colleagues to spend their time on the shop floor and keep shelves fully stocked, although a small helpdesk has been retained to assist the few shoppers who might still like to pay with cash or cards, Sainsbury's said.
The Holborn Circus till-free store trial builds on the success of Sainsbury's launch of its Smartshop payment technology in its Clapham store last year.
Sainsbury's group chief digital officer, Clodagh Moriarty, said: "We know our customers value their time and many want to shop as quickly as possible - technology is key to that.
"This is an experiment rather than a new format for us - it hasn't been done in the UK before and we're really excited to understand how our customers respond to the app experience.
"We'll be with our customers and colleagues all the way over the coming months, iterating continuously based on their feedback before we decide if, how and where we make this experience more widely available."