A new Reverse Vending Machine (RVM) has been designed specifically for small stores ahead of the Deposit Return Scheme in Scotland.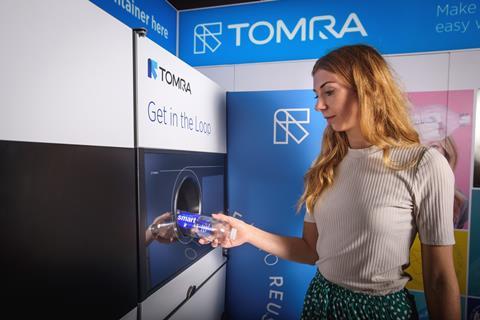 Global RVM manufacturer TOMRA said Scottish retailers had inspired the design of the new machine.
The company plans to roll out the TOMRA M1 concept before the Scottish government officially launches its DRS plan, expected in 2021.
Truls Haug, managing director for TOMRA Collection Solutions UK & Ireland, said: "We are extremely proud of the TOMRA M1 which was born out of visits to Scottish stores alongside retailers.
"It has been specially designed with smaller retailers in mind. We asked store owners about any concerns they had about participating in a deposit return scheme and there were two in particular – space and cost.
"As a result, the TOMRA M1 concept is space efficient; it can handle all three materials that are likely to be included in the Scottish DRS system – glass, PET bottles and cans; and it does so for an affordable price."
Retailers got a sneak preview of the new machine at the recent Scottish Grocers' Federation Conference in Glasgow.
Members of the Scottish Parliament (MSPs) recently called for more detail from the Scottish government on its proposed Deposit Return Scheme, including further clarity on handling fees and manual returns.