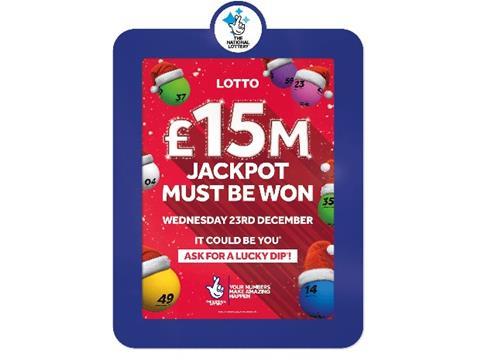 Camelot is urging National Lottery retailers to be prepared for additional demand across the festive period thanks to two huge jackpot draws.
The first of the two mega draws is the £15m Lotto 'Must Be Won' draw on Wednesday 23 December which also includes the recent enhancement to Lotto 'Must Be Won' draws – which sees players matching two main numbers win £5 and a Lucky Dip in a roll.
Capping off the festive draws is the EuroMillions 10 UK Millionaires draw on Friday 1 January, which will see 10 guaranteed UK winners of £1m each.
EuroMillions POS will begin landing in stores on 28 December and Lotto POS is landing this.
Also 15,000 National Lottery retailers have received special flashing dispenser lights to help boost those impulse Scratchcard purchases..
There are also some bonus events for National Lottery retailers over the festive period, including the special 'Advent Calendar' giveaway which has prizes on offer – from £5 to £500 – and a prize draw for £1,000. Retailers simply need to visit www.TNLRetailerHub.co.uk and go to the special 'Advent' section to open a calendar door. With each one opened, retailers gain one entry into the £1,000 prize draw, and either win an instant cash prize, see a top sales tip or get a Christmas cracker-style joke.
There are also bonus events for the Lotto and EuroMillions special event draws, where retailers can earn £10 per draw if they upload an image of their Playstation with correct POS to the Retailer Hub.
Camelot's retail director Jenny Blogg said: "With Christmas just around the corner, footfall in store is likely to increase as shoppers pick up last-minute items. It's important that your shop is prepared for the increase in customers across every category and all areas of the store.
"There are a number of things you can do in store to make sure you're getting those extra National Lottery sales, including making sure all POS is sited, suggesting a Scratchcard game to customers which they can gift to friends or family, and reminding customers to buy a ticket at the till – perhaps even mention the great new cash prize for Match 2 on a Lotto 'Must Be Won' Rolldown."