Lucozade Ribena Suntory (LRS) has joined forces with Energy Saving Trust in a new project aimed at helping independent c-store retailers identify how they can become more sustainable.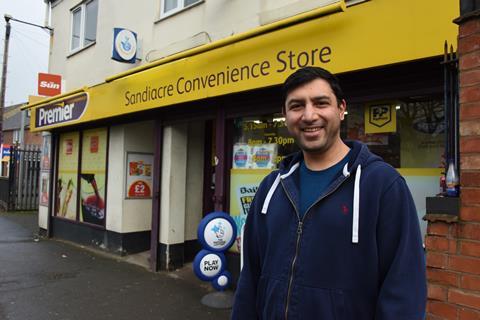 The project will see the implementation of several sustainability-focused changes in Amit Patel's 900sq ft Premier Town Street store in Sandiacre, Derbyshire.
Working together, LRS, Energy Saving Trust and Amit will look at the store and identify potential ways to reduce carbon dioxide emissions, improve the sustainability of his store, potentially save money and benefit the community.
Throughout 2020, Energy Saving Trust will capture data on energy and cost savings, as well as implementing behavioural changes for Amit and his store staff to help inform small stores on how they can boost their sustainability credentials.
Amit said: "It's brilliant to be able to work with LRS and Energy Saving Trust this year. Sustainability is such a key topic – my kids learn about it at school every day, and it's becoming more of a consideration for my customers in the products they buy.
"I want to help show how easy it is for other retailers to make a start on becoming more sustainable by saving money and helping the environment at the same time".
Lucozade Ribena Suntory category controller Jemma Healy added: "We know it can be difficult to know what to focus on when it comes to sustainability. We're going to work with Amit to show all retailers how taking small steps and making small changes can deliver real results - helping stores save money, increase sales and enhance their reputation.
"Our work in Amit's store reflects the Suntory vision of Growing for Good. By doing good things for society and the environment, we will help make a better, brighter future for all. We also know that any changes focused on sustainability are good for business. Not only will his browsing customers appreciate the in-store changes, but Amit's overheads will decrease."
Energy Saving Trust insight & analytics manager Andrew Tod said: "We're really looking forward to seeing the impact of the changes we make in Amit's store. This is a great project and from it we'll be able to show how the 40,000 newsagents and convenience stores in the UK can, for a small investment for the most part, make hugely impactful changes."