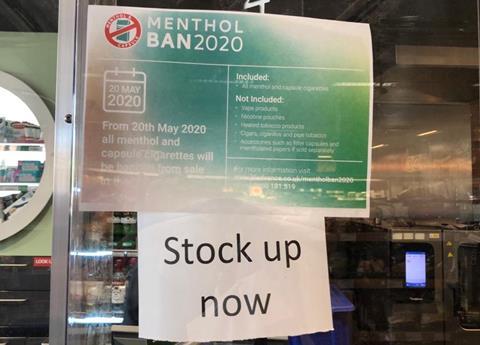 Awareness of the menthol cigarette ban in the UK remains low with just 54% aware of the legislation, according to research carried out by vaping brand Blu.
In a survey of 2,000 consumers, it was found that just over half were aware of the legislation introduced in May of this year.
Of those aware, one in three learnt about it two to three months before it came into place, most commonly by word of mouth, however 18% did not learn of it until after its introduction.
Effectiveness
Just under half (44%) of respondents thought the menthol cigarette ban should have been introduced sooner. However, almost four in five (79%) thought the ban would not lead to any changes in their own smoking behaviour or purchasing activity and 65% thought the ban would not change other people's smoking or vaping habits.
On the results, a Blu spokesman said: "Our research has revealed most people have a positive view of the new menthol cigarette ban but, whether they smoke or not, do not believe it will massively impact them or those around them.
"This may be due to the fact that, prior to the ban, menthol cigarettes accounted for only a proportion of overall tobacco sales. With overall awareness of the menthol cigarette ban still low, it looks likely that early increases in the demand for menthol vapes could continue to grow over the coming months as consumers look towards vaping as an alternative to menthol cigarettes.
Long term, industry statistics reveal the menthol cigarette ban may have wider reaching effects than our respondents have realised."
When the ban was implemented, retailers reported confusion amongst shoppers over alternative products despite efforts to make customers aware of it.