Costcutter Supermarkets Group (CSG) has launched a nationwide partnership with Uber Eats following a successful trial in stores across London and the South East.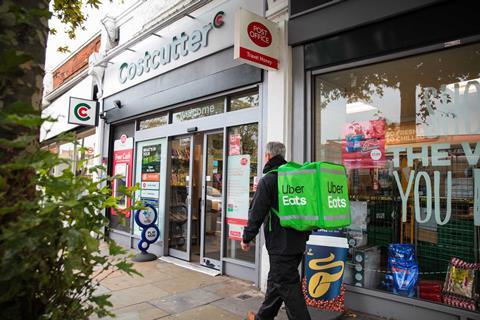 Retailers affiliated with Costcutter are able to sign up to the platform immediately, benefitting from discounted sign up costs and "superior margins".
The move marks Uber Eats' first partnership in the UK convenience sector and comes in response to "strong demand for real-time delivery", according to Costcutter marketing director Sean Russell.
Trial retailers saw an average £1,500 added to their monthly retailer sales.
A wide range of products will be available for delivery on the Uber Eats app, including everyday essentials such as milk, butter and bread, "meal for tonight" options, along with soft and alcoholic drinks and sweet treats – all subject to store offering and availability.
Sean Russell said: "With 28% of food and groceries now purchased online in the UK (Statista, 2019), our partnership with Uber Eats is a great way to reach new customers and demonstrates our continued commitment to helping our independent retailers thrive.
"We've responded to strong demand for real-time delivery and taken the lead in the convenience sector to give our retailers another point of difference in a highly competitive sector."
Uber Eats UK general manager Toussaint Wattinne in the UK, said: "At Uber Eats, we are always striving to offer the best and most convenient selection for our customers that fits their lifestyles.
"We're thrilled to offer local Costcutter Supermarkets Group retailers' array of great value products at the touch of a button, delivered directly to customers' doors."