Aldi has reported its "best ever" Christmas in the UK, with year-on-year sales up 7.9% in the four weeks to 24 December and exceeding £1bn for the first time.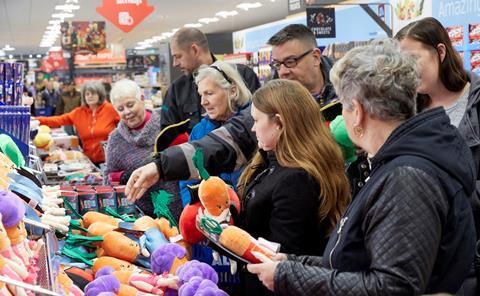 Sales were driven by a surge in demand for alcohol, premium Specially Selected products and fresh British meat.
Total sales in beers, wine and spirits increased by 9.2% year on year, with sales of sparkling wine up by more than 14%, fuelled by Aldi's range of Champagne and prosecco.
The Specially Selected range and fresh British meat range both saw year-on-year sales growth of almost 8%, the discounter said.
Aldi ceo Giles Hurley said: "More customers than ever before shopped with us this Christmas because they knew Aldi offered unbeatable value on premium products and the lowest prices on festive essentials.
"Although we saw strong growth across all key categories, sales of our premium Specially Selected range surpassed expectations, as customers snapped up these products for a fraction of the price they would have paid elsewhere."
Aldi currently has 874 stores and said it remained on target to achieve its long-term target of 1,200 stores by 2025.
As part of the store expansion objective, it recently announced plans to grow store numbers in Scotland and London.