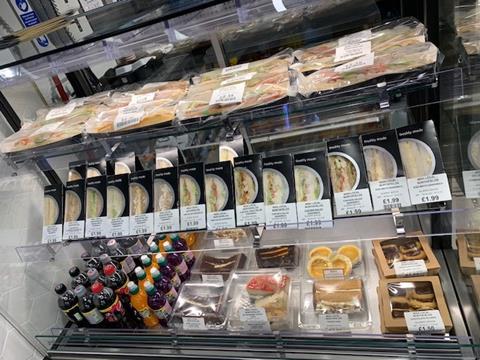 The food to go market contracted by -46% in 2020 with reduced mobility, travel bans and school closures all contributing to significant lifestyle changes and consequently the need for food on the go. Ever so slightly immune to wider eating out market challenges faced by dine-in exposed channels such as pubs, food to go managed to modestly outperform the total eating out market, which declined by -49%. Food to go is expected to recover to 72% of its 2019 market value in 2021, before wider recovery and growth will see the channel reaching a value of £22.6 billion in 2024.
The Lumina Intelligence UK Food to Go Market Report 2021 has found that shorter term challenges for the sector will evolve into longer term opportunities, spearheaded by shifts in the way that consumers interact with food to go.
Outdoor socialising
In the next few months as social restrictions ease, food to go is well placed to capitalise on the outdoor socialising occasion, with consumers expected to retain a level of risk aversion that leaves mingling outdoors preferable. 21% of consumers say they are likely to purchase food to-go and eat it in a park in the future and this figure rises to 38% for 18-24's. Operators including Pizza Pilgrim's, German Doner Kebab and Megan's Restaurants have already began to develop propositions that offer portable and high quality picnic-style meal solutions.
Hybrid working patterns
Although a shift for the minority, with two-thirds of workers unable to work from home, ongoing hybrid working patterns are a concern for city-centre, office district and travel hub locations that are dependent on worker footfall. 34% of consumers are planning to work from home in the future with over half of this proportion bullish in their preference for a high proportion of their workdays at home. Operators that are particularly exposed to the impact of reduced worker footfall have started a journey of innovation into omnichannel trading, increasing delivery footprints and developing retail lines. Food to 'go home' is a particular focus, with operators including Costa, Pret A Manger and Marks & Spencer already targeting this occasion with new products featuring clear heat at home instructions.
For those returning to workplaces, whether it be full or part time, there is noteworthy pent-up demand for food to go lunches and evidence that these occasions will be more treat-led than pre-pandemic. A quarter said that they are missing food to go, with many consumers suffering from 'lunch fatigue' and eager to explore what the market will have to offer when they can return. Food to go occasions became more treat-led in 2020 and consumers are most likely to trade up on food to go consumed when at work. Operators have an opportunity to utilise this demand to grow transaction value but will need to do more to appeal to consumers who have been making lunches at home for over a year and have enjoyed the cost savings.
Operator-led location and technology strategies
The estates of leading food to go players will total than 28,000 sites in 2021, with key players including Greggs, Costa and Co-op continuing to expand. The aforementioned changes in consumer work patterns have exacerbated a pre-pandemic shift in diversifying estates. A greater focus on neighbourhood and retail parks, with smaller to-go focused sites and larger drive-thru locations will allow operators to target varying demographics with different needs. The pandemic has accelerated operators' digital journeys with contactless service crucial in instilling consumer confidence with 56% of consumers more confident in sites with contactless service. Investment in seamless technology will drive future success with contactless service boosting through-put and trade-up opportunities.
The coffee opportunity
Coffee has dominated food to go drinks occasions in recent months, enjoying a 50% share of total drinks consumed over the last 4 months. Reflecting the increase in socialising in outdoor spaces, younger consumers are the most active on coffee walks, with almost 1 in 4 having picked up the habit of purchasing a hot drink to go when on a walk with a friend since March 2020. Operators including Pret A Manger and Leon have recognised the British love affair with coffee, developing subscription models around coffee which will drive loyalty and spend in the long term.
The Top 10 food to go channels can look forward to a £1.1 billion sales prize between 2022 and 2024 with sandwich & bakery and coffee shop/café segments poised to lead in absolute terms underpinned by physical outlet growth, a core to-go focus and continued consumer aligned new product development.

Katie Prowse is Insights Manager at Lumina Intelligence.