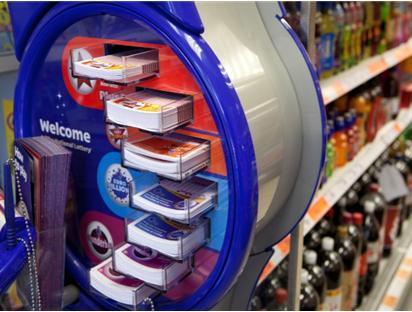 Abdul Majeed Anwar wrote in to say: "I saw your article on www.conveniencestore.co.uk regarding a lottery application. I wanted to enquire regarding a similar situation where I've applied to be a National Lottery retailer but I've had no luck. I've applied many times since starting my business in 2016 but haven't received any feedback from the National Lottery team.
"There is one retailer within the same parade of shops where I am based who provides a lottery service, although where we have a corner location, we have a lot more traffic passing through our store. Our store provides services for Paypoint, Western Union, Collect+ Parcels, Hermes inPost parcel locker and oyster top ups. Excluding this, we have a weekly turnover of around £15,000 - £18,000.
We would love to be able to provide services for the National Lottery services if approved through the application process."
I didn't think Camelot minded the lottery being sold by more than one store in a parade so I asked for a response and a spokesperson said: "I've looked into this for you and can confirm that we have assessed Mr Anwar's application and, unfortunately, he does not currently meet the criteria to become a National Lottery retailer. As with all National Lottery retailer applications, a number of factors are taken into consideration to ensure we select the right outlets to maximise returns to National Lottery good causes – including things like proximity to other National Lottery retailers.
"It's worth noting that if Mr Anwar's circumstances do change in any way – he's welcome to re-apply in six months' time, and we'd like to thank him for his interest and wish him all the best for the future."
Abdul said he was pleased to at least get a response and he forwarded the official reply he had received from Camelot "where they have stated they're unable to go through with my application due to our stores projected sales and lack of terminal availability".
Ironically Abdul believes his store would be very capable of increasing sales if only he had the lottery.
He says: "From our current sales of £15,000-£18,000 per week, it's highly possible for us to reach £20,000 in store revenue plus any other services we provide which will include the lottery terminal. All due to the fact that we'll have more traffic into the shop.
"We serve an average of 500 customers daily where at least 20% of our new customers ask if we have lottery services available. Our regular customers are aware we don't provide this service, although they still do all their shopping with us due to our competitive pricing, they go down the road then to purchase their lottery services."
He is planning to reapply in six months' time.

Jac Roper is editor for Convenience Store's Dear Jac column. If you've got a retail problem, call Jac on 020 8502 9775 or email: jac@roper-biz.co.uk.