Chris Bennett and Julie Hartnell got in touch from Clansdown News in Radstock, Somerset. Back in September they advised Camelot that they would be shutting their store permanently on 27 November 2021.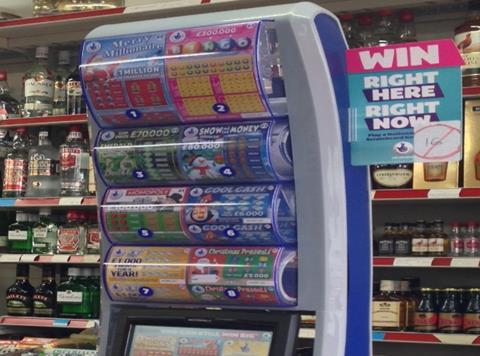 On 17 September they signed an e-document at Camelot's request to formalise it. They got confirmation by email saying that 60 days' notice was required and asking them to complete the 'confirmation of cancellation request'.
Camelot said when this was received a member of the Retailer Provisioning Team would be in contact to make the necessary arrangements to remove the National Lottery equipment from their store.
"Having heard nothing from the Retail Provisioning team, we rang them on Wednesday 10 November, who said that nothing had been done, but they would chase it up. On Monday 15 November, a man called in to the shop unannounced, to say that he had to collect our equipment, but not the terminal or the Scratchcards. Along with the lozenge and playstation, he removed the display cabinet, and advised us that we should continue to sell the Scratchcards from under the counter, as we now owned them because they were activated. We were totally shocked as we had £1,151 in value, and at no point had we been told to stop activating them. In fact, we believed that we were doing the right thing by Camelot to continue to display and sell them for as long as possible. 'Supporting good causes'!"
The couple did of course ring head office over this, trying to appeal to Camelot's better nature, "explaining that we were actually closing because we couldn't survive any more in the current climate, and the last thing we needed was to be stuck with over £1k worth of Scratchcards. Their empathy was noticeable by its absence"!
On Tuesday 16 November they received a phone call to say that Camelot would be coming in on Monday 22November to remove the terminal and printer. "We argued that they hadn't communicated this with enough notice, given that they expected us to give them 60 days' notice, and that we would struggle even more now to sell the Scratchcards as we wouldn't have a terminal to check the winning tickets and pay out any prize money. Again, not a bit of sympathy for our plight."
Finally they said: "Resigned to the fact that we were stuck with this liability, we conceded defeat. We now feel that we have been treated appallingly by Camelot, and are hard pressed to offer our loyal customers a service to the end. What a rotten way for us to end our 18 1/2 year relationship with Camelot, and they claim to be charitable! Sadly the retailer doesn't qualify as a good cause.
"Please share this story with your readers, as it has really put a damper on our final few days and left a bad taste in our mouths."
I sent their comments to Camelot and got a very good result at the eleventh hour. "We're sorry that Mr Bennett and Ms Hartnell haven't had a good experience leaving The National Lottery. We are hugely grateful for their 18-plus years selling National Lottery products and raising money for good causes in the process.
"Under the terms of their Retailer Agreement, National Lottery Scratchcards become the property of retailers once they are activated. However, due to the retailer not having a way to sell their remaining tickets because their dispenser was removed, and given that the cancellation process didn't run as expected for them, we will be providing them with a full refund as a gesture of goodwill. We will be writing to them about our decision and wish them all the best for the future."
I was well chuffed at that…and so were Julie and Chris.


Jac Roper is editor for Convenience Store's Dear Jac column. If you've got a retail problem, call Jac on 020 8502 9775 or email: jac@roper-biz.co.uk.