Westons Cider is giving its Rosie's Pig rhubarb cider a new-look with a redesigned canned four-pack format.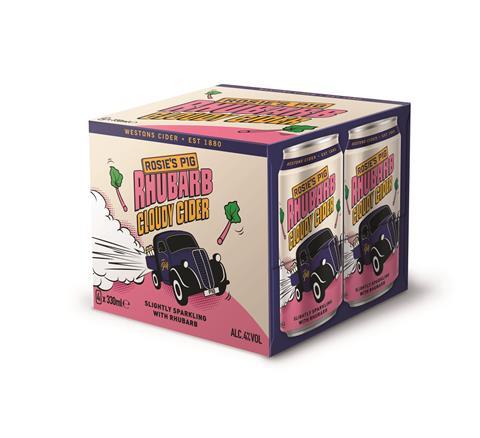 Rosie's Pig Rhubarb (4% abv) will benefit from a modern revamp and refreshed look, designed to give the products increased stand-out on shelf.
Westons Cider head of marketing, Sally McKinnon, said: "Interest in the fruit cider category shows no sign of letting up and there's a clear opportunity to drive incremental sales by introducing new shoppers, such as younger drinkers and women to the category.
"This coupled with a growing demand for canned formats – which now represent 48.6% of the cider market in the off-trade – means we're confident the launch of Rosie's Pig Rhubarb four-pack, with its distinctive new branding, will appeal to cider fans and non-traditional cider shoppers alike."
Rosie's Pig Rhubarb is available in a new four x 330ml can pack across the off-trade, with an rrp of £5.