Heineken has revealed that Old Mout has added a new pineapple and raspberry cider to its core range.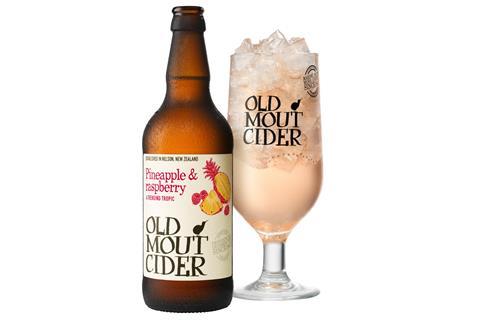 Old Mout Pineapple & Raspberry (4% abv), which will be available in a single 500ml bottle (rrp £2.39) and 10 x 330ml can pack (rrp £11.00) from next month, offers a tropical taste with no artificial colours, flavours or sweeteners.
Heineken cider director, Emma Sherwood-Smith, said: "Old Mout's new Pineapple & Raspberry flavour reflects current market trends and we have the consumer taste tests to back it up – in fact, it received the second highest score in the history of Heineken UK.
"As such, we believe we have an exceptional, exotic flavour that will have mass appeal, delivering on 2019 foodie trends, great taste and marrying nicely with our sustainability agenda too. A recipe set for success, Old Mout's latest NPI is guaranteed to help retailers realise the full potential of their premium cider offering and boost their profits."