Kellogg's is teaming up with Salford brewery, Seven Bro7hers, to turn its 'less-than-perfect' Rice Krispies and Coco Pops into beer.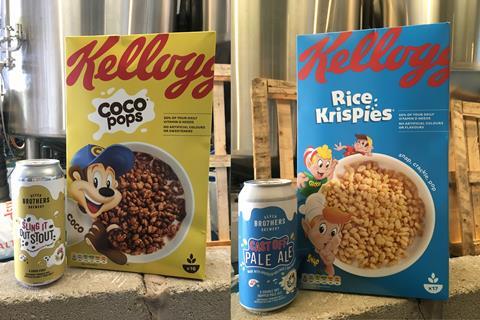 Following the launch of a 'Throw Away IPA' at the end of last year – made from surplus Kellogg's Corn Flakes – the two companies have joined forces for a second time to create a coco-based 'Sling it out Stout' and a snap, crackle and pop 'Cast off Pale Ale'.
The two new beers are made from discarded grains created during the cooking process at Kellogg's local factory. Seven Bro7hers is in discussions with Manchester convenience stores about stocking the skus.
The craft products (rrp £2.79 each) will be available alongside the Corn Flakes IPA which is returning to shelves this month. All of the beers in the range are brewed over five days using 80kg of waste cereal as a malted barley substitute.
Kellogg's UK and Ireland corporate social responsibility manager, Kate Prince, said: "Our primary objective is to convert every kilo of grain we buy into food that we can sell. However, that's not always possible.
"Kellogg's is always looking for innovative ways to use surplus food, the collaboration with Seven Bro7hers is a fun way to repurpose non-packaged, less-than-perfect cereal. This activity is part of our new 'Better Days' commitments which aim to reduce our impact on the planet."
Keith McAcvoy, founder of Seven Bro7hers brewery, said: "Working with Kellogg's on the production of our first sustainability conscious beer Throw Away IPA was amazing.
"To carry on with this partnership and create two new exciting craft beers is even better. We are extremely proud to be working with Kellogg's and being part of the fight against food waste."