Frosty Jack's is replacing all of 3ltr PET bottles with 2.5ltr equivalents (abv 7.5%) in a move that is estimated to see 22 million fewer units of alcohol consumed.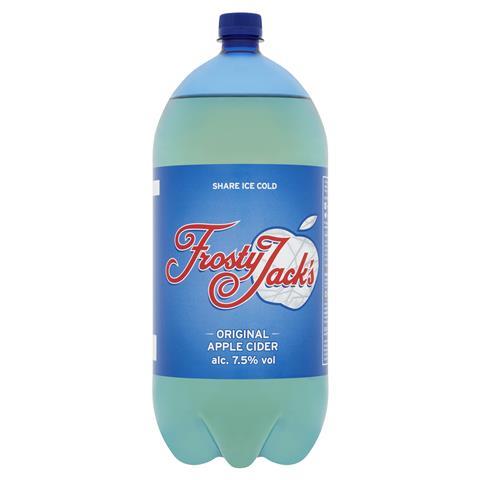 The change, which sees the smaller bottle priced at £9.40 after MUP in Scotland, follows extensive analysis of consumer trends and market data to closer align pack formats to consumption occasions,
Frosty Jack's is aiming to become more sustainable and recently announced that all of its large PET bottles will now be made using at least 51% recycled material – a first for the alcohol market (rrp per bottle at retailer's discretion).
Gordon Johncox, chief executive at brand owner Aston Manor Cider, said: "We considered the evidence and reflected on our priorities, which are aligned with our customers and consumers. This move shows our ambition to work towards greater sustainability across all features of the category, including the responsibility agenda.
"As Frosty Jack's cans are in double digit growth, reducing the size of the PET bottles is also the next natural step for the brand. This enables Frosty Jack's to be more in line with the shifting consumer preference for smaller pack formats. We have always taken pride in our ability to be both responsive and a leader in the category."