The team at Newry-based Eurospar Mulkerns, headed up by store manager Aaron and general manager Kelly, have ensured that their community can count on them in a crisis
HOW ARE YOU DOING?
Aaron: I started on 1st December - It was tough jumping in at Christmas, but in hindsight it's been a good thing as I don't know what normal is! Now we're trying to find out what customers want. Before you had a business shopper, a family shopper … now they're shopping at different times for different things.
HOW ARE YOUR STAFF?
Kelly: Our staff are aged between 16 and 60 years old, we didn't want staff coming in and feeling panicked. We worked with the management team, putting measures in place very quickly to get store running safety.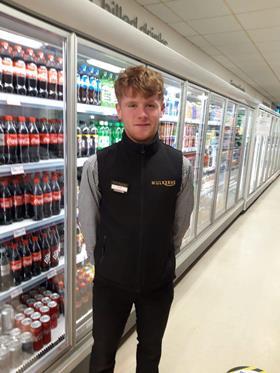 We had to close the deli in the critical weeks. We've had members of staff taken from our deli and put on till, put on butcher and home delivery and they just got stuck in. There's a couple of heads of departments who now want to keep certain members of staff!
One of the positives is that this has shown that we are blessed to have really good staff - some are working six days a week and they haven't blinked an eye, haven't complained - it makes you so proud to be part of it. They really are troopers. Staff have had to take negative feedback from anxious customers. Getting that day in and day out can be draining, but staff come back with a smile - I take my hat off to them.
Aaron: Staff feel pride being able to serve the community.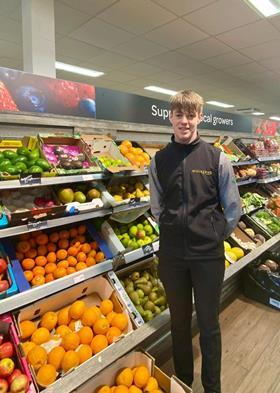 WHAT SOCIAL DISTANCING AND HYGIENE MEASURES HAVE YOU PUT IN PLACE?
Kelly: It became clear that people were shopping where they felt safest. We had to shelve our regular social media posting, such as Meet The Team Tuesday, it seemed to flippant and wasn't relevant. The communication had to be there from the start, keep a calm voice and not engage in the panic. Our social media following has increased as a result. People know they can come here for information.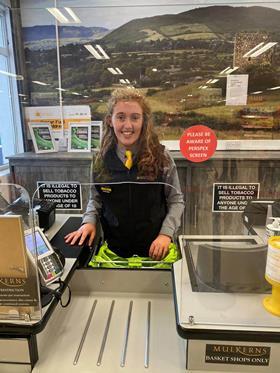 We were quick to get processes in place:
Aaron removed his floor team and put them on to night shifts so that they wouldn't be mixing with the public, so there weren't staff on every aisle.

We put protective screens up at the till points.

Gloves were available and there was sanitizer at the till.

There was a team cleaning high touch point areas eg ATMs.

We have round spots to remind people of 2m distances at queuing points.

Our door is manned since this has happened from open to close to ensure people are santitising and that we can do a headcount.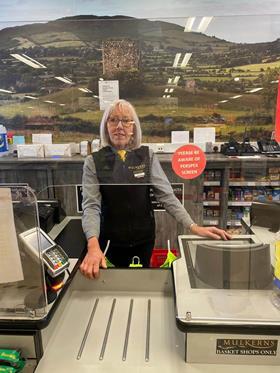 WHAT'S HAPPENING WITH PRODUCTS AND SUPPLIES?
Aaron: There was a massive surge in demand for pasta rice and cooking stuff. There have been a few inconsistencies, some items have been out of stock completely. But we have branched out to local suppliers who were supplying hotels, who are now supplying us eg flour. As a team - we are well known in the area - we have had companies contact us to help. There' s been a large collaboration of firms working together for the greater good.
HOW'S HOME DELIVERY GOING?
Kelly: We do a lot of [free] home deliveries at the moment for the vulnerable and those with kids that can't leave the house. You're missing that extra sale where people would have picked up something else. You come in for bread and milk and come out with a trolley full - you buy with your eyes, but the home deliveries are big shops.
Six days a week my office team are all on headsets taking orders.
Going forward we'll keep it going. We're launching an app next week and then anyone can go on, browse the departments and make an order for home delivery.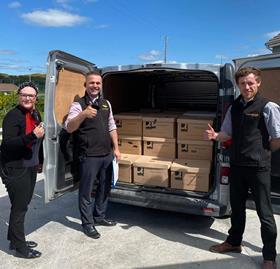 HAVE YOU BEEN INVOLVED IN ANY COMMUNITY WORK?
We've been working with local wellbeing practitioner Joanne Callan to spread some happiness. We asked Joanne to design some inspiration for our Community Notice Boards.

We're running a colouring competition in aid of local Women's Aid and Barnardo's. For every entry we are donating £1 to these charities.

We have sent a van load of treats and refreshments to staff in Daisy Hill Hospital.

We worked with our local Hill Walking club to provide lunch and refreshments to the Fire Service who were tackling a blaze on one of our local mountains.

We packed 120 food parcels for delivery to vulnerable people.

We are encouraging our customers to donate supplies to our Food Bank for the Homeless which is located in store.

We have a Free Order and Collect service for the vulnerable or NHS Staff or those who find themselves constrained due to childcare issues.

We had to close a little earlier for a time so we opened a Community Kiosk Service in the evenings so customers could still shop for essentials.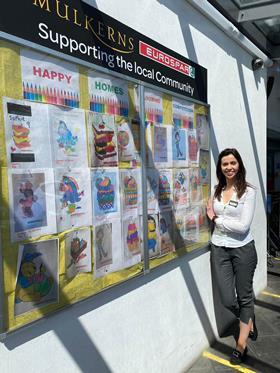 Aaron: I feel really positive. I know there's been drawbacks and tough times, but the opportunity and challenge of getting a smile back on customers' faces is why I'm in the job. This is my local store and being able to make a difference to customers at this crucial time brings you a great sense of pride on a daily basis and the locals look up to Mulkerns.
Kelly: And the feedback we've had from customers - kind words through Facebook or thank you cards, bouquet of flowers and chocolates - that in itself is job satisfaction, knowing that you've helped people through such an uncertain time.