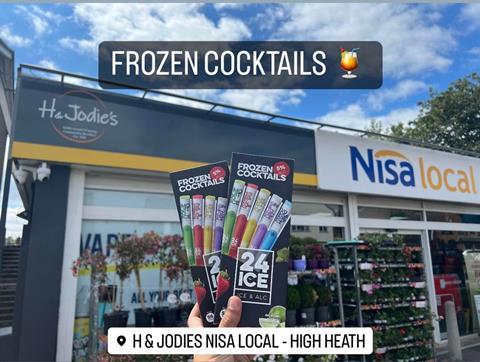 When UK temperatures hit highs of 40 degrees last week, forward-thinking retailers were ready to take full advantage of the opportunity to boost sales.
"Any extreme weather - if you don't like it as a retailer you're in the wrong game," enthuses Premier retailer Serge Notay, who owns Notay's Convenience Store in Batley. "It really gets your juices going!"
He recalls his Grandad telling him that in the heatwave of 1976 he went down to the cash and carry for ice cream and by the time he got back they'd all melted. Serge had no such issues, thanks to being well organised. "If the store is prepared you do well," he grins. "We sold 250 alcoholic slushies - at £5 each with a 70% margin. It's been phenomenal."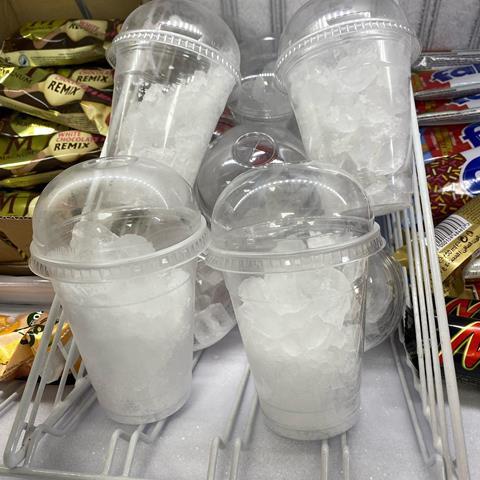 Ice cups were another big hit with customers. Soft drinks were selling at such a rate that they weren't getting cold enough in the chiller before consumers picked them up. So savvy Serge sold cups of ice for 50p. "The ice cups went really well. From one bag of ice I can get 20 cups for 50p each, so that's £10 from £1!"
The kindly retailer also offered free ice cold water from a dispenser for all customers.
Overall, Serge reported a 35% sales increase and he thinks this would have been even higher if it weren't for the cost of living crisis.
Over in the West Midlands, innovative Amrit Pahal, who runs H & Jodie's Nisa Local in Walsall, has been busy promoting frozen cocktails, BBQ lines and bottled water. But what really blew customers away was the shop's huge array of fans. "We have a massive range - AC units, 9 inch fans , portable fans, oscillating fans, tower fans …" says Amrit. "When this [extreme weather] happens we don't run around like headless chickens [trying to source seasonal lines]. The only way I've got products no one else can get is because I have a load of stock - my Dad brought in extra fans from the end of last year."
When he knew the hot weather was coming, Amrit put his plan into action. "I knew it was going to be mega hot," he says. "What I wanted to do is to capitalise on the opportunity.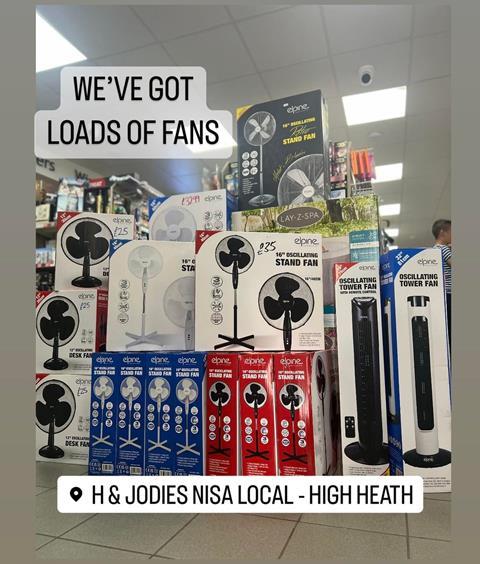 "As soon as it started getting over 20 degrees we put fans out in store. We did like & share competitions on the right things - fans - which I knew would work. As it got hotter demand went through the roof. I sold 250-300 in three days with 50% mark-up." That's a pretty tasty figure when you consider that many of the fans were priced upwards of £25. "That's where we get the buzz!" says Amrit.
In addition to making money, he explains that these types of products also attract new customers to the store. "We've been dragging in new people with the fans. They might not have been in before and they see the rest of your shop."
He has plenty more hot weather purchases too, including pools, pumps, hot tubs, kayaks and inflatable canoes.
Food sales dipped during the peak of the hot weather at Dike & Son in Stalbridge, Dorset, as people were simply "too hot to eat", claims company director Adam Vincent.
However, beverage sales rocketed and the store has several alternative routes to market, which have all seen smoking hot sales.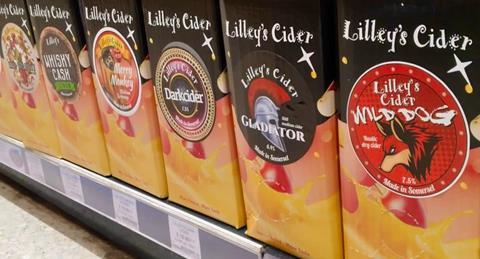 "Soft drinks have been off the radar and alcohol has done pretty well. We've sold more spirits than usual and Lilley's Cider is definitely worth a mention, we've sold a lot of that. Our Amazon sales for all these things have been through the roof," says Adam. "We've been selling a lot of boxed cider and cocktail making stuff."
Home deliveries rose dramatically with the temperatures as elderly customers opted to stay out of the heat. "Deliveries were up 40% in quantity," he says, adding that delivery drivers were given plenty of water to keep them well hydrated.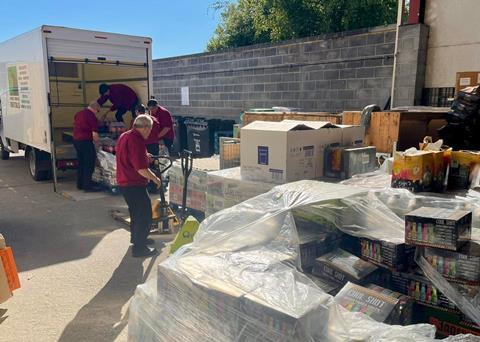 The store also supplies products for events and saw a flurry of additional sales as customers upped their drinks orders to prepare for the hot weather. "They had drinks orders in anyway, but they phoned up and said 'look - we need as much as you've got'," says Adam. "We hired in a tail lift van for the day and we were off-loading it using their tractor!
"We've certainly made hay while the sun shines!"