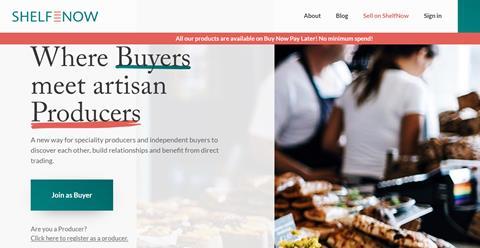 Retailers can easily check the ethical and sustainability credentials of suppliers at online wholesaler Shelfnow thanks to new blockchain technology, which gives buyers instant access to key documents and imagery relating to the production process.
By scanning a QR code on their smartphones, retailers can discover the 'places and faces' of those involved in the supply chain. Available documents include images of the production process, profiles of those involved, quality certificates, lot numbers, and travel documents. The certified public information is counterfeit-proof due to the symbol blockchain protocol, whose operational function is a cryptographic hash that confirms authenticity.
Retailers can also utilise the data-led marketplace to tailor their search for producers that share the same principles as them.
Caffè Barbera is one of the ShelfNow producers optimising its presence on the marketplace through the introduction of blockchain transparency. Elio Barbera, managing director of Caffè Barbera, said: "Blockchain has enabled us to validate our supply chain and share the journey of our coffee - from the plantation to the cup - with our customers. ShelfNow is a fantastic partner to work with as it provides us with the guidance to modernise our practices, as well as ensuring that buyers that share our ethical principles can easily find our products on the marketplace."
With a 230% rise in the number of organic, fair trade and sustainable brands on the platform over the past year, ShelfNow prioritises partnerships with ethical producers. Blockchain will enable producers to provide evidence for ethical claims in the most reliable and transparent way, claims the firm.
Philip Linardos, co-founder and CEO of ShelfNow, said: "As consumers are becoming more aware and interested in ethical brands, there is a greater demand from buyers to work with transparent and ethical producers. The integration of blockchain technology will allow us to lead the way in enabling our buyers to discover like-minded producers and see proof of ethical claims that brands make. Furthermore, we are excited to be launching a programme to support our producers to introduce blockchain technology into their small businesses - something that would be difficult for SMEs without our support."
Shelfnow claims to be the world's first blockchain-enabled marketplace which promotes transparency, sustainability, accountability and ethical operations. The technology was integrated in partnership with New Zealand software company Trackgood.