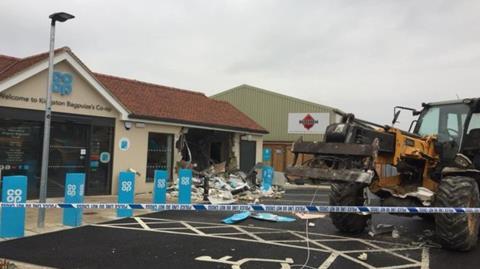 Thames Valley Police are appealing for witnesses following an ATM ram raid at a Co-op Group store in Oxfordshire.
The incident happened at the convenience store on Witney Road in the village of Kingston Bagpuize at around 2:13m on 1 March.
According to police, a digger was used to break into the store and a cash machine was taken, causing significant damage to the front of the building.
Five offenders were seen loading the ATM onto the back of a black Mitsubishi pick-up truck, which was later seen heading back towards the A420 with a chain dragging along the rear of the vehicle.
The offenders are all described as men, and all dressed in black clothing.
Investigating officer detective sergeant, Aidan Donohoe, said: "Our investigation is in the very early stages, but I would appeal to anybody that saw or heard anything at around 2.10am to contact police. The offenders have caused significant damage to the front of the store, with the digger, which was stolen, and have removed the cash machine, stealing a quantity of cash.
"At this stage, it is too early to say whether this incident is linked to any similar such offences across the region, but we are keeping an open mind. Forensic officers have examined the scene and we are making further enquiries in this investigation.
The incident followed a number of recent ATM raids across the UK.
Anyone with information regarding the incident is asked to call 101, quoting URN 86 (1/3). Alternatively, call Crimestoppers anonymously on 0800 555 111 or make a report online.