The move to plastic-free retailing may be in its infancy, but a growing number of store owners are proving how a willingness to embrace eco-friendly ideas can have a positive impact on both the planet and their profits. C-Store investigates some of the solutions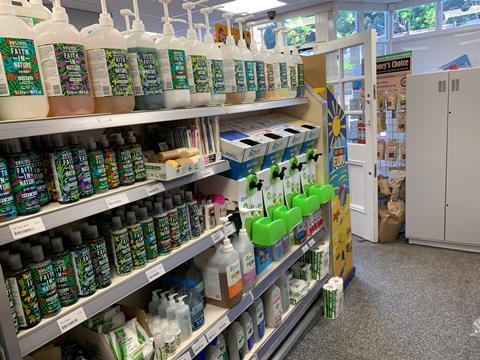 In April coffee shop chain Boston Tea Party announced it had taken a £250,000 (25%) hit from takeaway coffee sales as a result of banning single-use cups last summer. Admirably, the chain says it will not change its policy and does not want to put "profits before the planet" – and in the year since launching the scheme, it has saved more than 150,000 cups from going to landfill.
The South West-based chain of 22 cafés had planned for the losses, but owner Sam Roberts admits that an independent site would struggle to introduce such a ban.
The experience of Boston Tea Party raises key questions for c-stores looking to get ahead of the curve in this area: what action can retailers take that is both good for the environment and their bottom line?
David Andrews, who owns Long Ashton Post Office in North Somerset, has demonstrated what can be achieved in a small store – circa 500sq ft – and without the resources of the multiples. In fact, introducing a number of waste-reduction initiatives since last year has actually improved the store's long-term sustainability. And conveniently for David, they were all his customers' ideas.
"We're a post office with a small c-store and the post office was struggling, so we needed to build up the retail side. We did a survey on Facebook to ask what customers wanted, and the overwhelming response was sustainability and a refill Ecover station," he says. "We set one up and started selling 60-90 litres per week. Then we introduced Faith in Nature refills of soap and shampoo. Across the two brands we're selling £800 a week with 30-40% margins."
He says the initial outlay to set up the two-metre refill stations was £1,200, but the return on investment was pretty quick.
"We had clearly cottoned on to something so we then thought 'what else do we sell with plastic that we can reduce?'."
The first response was to introduce greeting cards without plastic wrapping, then a refillable milk station with accompanying glass bottles in February. The milk is sourced from local supplier Crook & Churn, which sources directly from a farm.
"Customers can buy a 1ltr bottle for £1 then fill it for £1 or organic milk for £1.20. They wash the bottle, bring it back and refill," he explains. "People tend to have two or three bottles going at a time."
To date, the initiative has been a resounding success. "We thought we'd sell 50-60ltrs a week but we're selling 500ltrs, with margins of 25%."
In turn, sales of plastic bottles have gone down 80%, and the scheme has elicited some envious glances from nearby competitors. "The local Co-op came to find out what we're doing – sales are obviously down there," David reports.
Adapting to consumer demand for eco-friendly products has resulted in a year-on-year sales increase of 35%, he adds.
In Sheffield, a Select Convenience store in Bents Green, owned by James Convenience Retail, has enjoyed similar levels of success since selling glass milk bottles from local supplier Our Cow Molly since April 2018.
The one-pint bottles are sold for £1, but customers get 11p back when they return each bottle to the store – matching the 89p prices of an equivalent Nisa-supplied plastic bottle sold in store. The supplier collects the returned bottles on a daily basis.
In the first year 3,782 bottles were sold and 2,924 were returned to the store, according to business manager Darren Smith, who looks after 24 James Convenience Retail stores in the North of England.
"Customers have massively gone for it, and they are driven by the environmental benefits," he says. "At the moment we sell about 80-100 a week and 65-75 get returned. In contrast, we sell about 10 plastic bottles, which shows the demand for local products and plastic reduction. It's really boosted footfall and the margins are better anyway."
Eddie Andrew, owner of Our Cow Molly, says bottled milk is an "absolutely fantastic opportunity" for independent c-stores.
"We supply Morrisons and Co-op in Sheffield, but they haven't accepted my suggestion to take glass bottles – the multiples just don't have the infrastructure," he tells C-Store.
He admits to initial concerns over whether shoppers at the Bents Green store would return the bottles, given a glass bottle costs about 35p, compared with polythene which costs a few pence. "But it's been a phenomenal return of bottles," he says.
Jai Singh, owner of a Go Local Extra in Sheffield, is also planning to source milk in glass bottles from Our Cow Molly, also with a deposit scheme. "There's demand here for plastic reductions, as has been proved with our carrier bag charge."
Cletwr Community Shop in Wales has been enjoying bottled milk success. Assistant manager Suzanne Davies says: "Milk sales have risen slightly as people are coming to us specifically to buy milk in glass bottles. The cost from the dairy is a little more and is reflected in the retail price.
"Our local dairy reacted quickly to the demand for milk in glass bottles, and we now stock orange juice in glass bottles, too. Customers bring their empties back to a crate at the side of the shop. This has been hugely popular, with many folks buying carrying baskets to make buying multiple bottles easier and reduce the risk of spillage."
The store also offers a water bottle refill service. "We're in a rural area so we have a lot of walkers and cyclists calling in. We feel that offering water bottle refills is a nice courtesy. Bottled water sales haven't really been affected by this, but as awareness of the problem of single-use plastics spreads and people carrying a refillable bottle becomes the norm, hopefully we will see sales of bottled water drop," says Suzanne.
Selling loose fruit and veg with accompanying paper instead of plastic bags is another success story for Cletwr Community Shop. However, in Northern Ireland, Eurospar Mulkerns in Newry is going a step further by removing all bags from its loose fruit and veg section.
"Biodegradable bags are more expensive so we decided to cut out bags completely. We weigh loose fruit and veg at the tills anyway," says manager Thomas Magennis. All 28 loose fruit and lines will be sold without accompanying bags, including apples, lemons, clementines, avocados, onions and pomegranate, once all existing bags are used up.
"We've had positive feedback from customers about the idea, and we hope to see a sales increase in loose items," he adds.
Eurospar Mulkerns is no doubt hoping the venture will replicate Morrisons' success of selling without plastic bags. The multiple ran a 10-week trial at three stores in which sales of loose items increased by an average 40% and has now announced plans to introduce plastic-free fruit and vegetable areas across its stores.
But Conrad Davies, who owns a number of Spar stores in Wales, offers a note of caution. "We have paper bags for fruit & veg and bakery, but people still want plastic bags, because they find them more practical. Some people want to be sustainable only if it's convenient to them."
Conrad has seen success with dry-food dispensers at his Spar Market store in Pwllheli. "We'll be introducing more dry food dispensers for pulses, grains, nuts and pasta etc. We do cereals and porridge and people love it – it's still not selling as much as packaged cereals, but it's getting there. The margins are great, between 50% and 60%," he says.
At Hisbe, the ethical supermarket in Brighton, East Sussex, dry food dispensers have been such a hit that they have expanded to more than 100 lines – including numerous lines of pastas, pulses and cereals – and ditched all packaged product alternatives. "Customers are saving 25,000 items of packaging a month," says director Amy Anslow.
"It's something customers can buy in to, it's good quality product, organic and cheaper. Margins are better, too, so everyone wins. It's still our biggest selling area."
Fresh thinking required
Reducing plastic packaging on dry food is one thing, reducing it on fresh meat is more complex and heavily dependent on innovation from suppliers, Amy says. "We're continuing to work with suppliers – it's very difficult to meet regulations. And when we trialled sausages with paper packaging sales went down," she adds. "People don't always act on their principles."
Andrew Thornton, owner of Thornton's Budgens in London, which is aiming to go virtually plastic free over the next few years, agrees that meat is much trickier than other categories in terms of plastic-free packaging. "We tried selling it in sugar cane trays with a vegetable-based sealant, but sales were really poor. We're looking at other solutions and all meat at the moment is in plastic packaging," he says.
It's clear it is early days for plastic-free packaging for chilled meat and ready meals, but the multiples are moving closer. Waitrose, for example, has just launched its Italian ready meal range in fibre-based trays, which are suitable for recycling and home composting. The trays are manufactured by specialist Huhtamaki, which has received a lot of enquiries from other retailers and discounters.
"The market is looking for alternatives to plastic," says Huhtamaki European project manager Steve Davey. "We'll be more expensive to start with because of the cost of infrastructure and operations, but costs will come down when more companies start buying the product."
One safe bet for independents is non-food, as David at Long Ashton Post Office has found with Ecover and Faith in Nature refillable solutions. Hisbe's plethora of laundry, soap and washing-up liquid refills has grown in popularity – last year its customers chose to swerve disposable plastic toiletries bottles 24,000 times, either by choosing to buy a bar of soap or refilling instead. "Nine out of 10 of our customers buy soaps or refill," says Amy.
Ancoats General Store in Manchester, winner at the Convenience Retail Awards 2018, also offers profitable lines in refillable detergents and unpackaged soaps – along with dry food dispensers. And at Cletwr Community Shop, it's hard to keep up with its range of successful refillable non-food lines: "We've extended refills to include toilet cleaner and multi-surface cleaner. We've added kitchen scourers made from loofahs, scrubbing brushes made of coir, and a range of sponges and dishwashing brushes made from recycled plastic," says Suzanne.
Other household items include compostable baking parchment, beeswax wraps (used instead of cling film) and recycled paper kitchen roll. "We've started stocking shampoo bars, which have been a big hit," she adds. "Bamboo toothbrushes, biodegradable baby wipes, bamboo tissues and eco-sanitary protection have all proved to be good sellers, too."
Suzanne's advice for retailers starting out on the eco-friendly path is similar to David's: talk to your customers, take advantage of social media, and take it step by step. "Start with smaller changes and talk to your customers to see what they would be interested in buying. We've communicated the new products through pos, mailouts and social media and that has helped with customer awareness," she says. Andrew Thornton advises retailers to start off with loose produce and bakery products in paper bags.
As for coffee cups, Mital Morar, owner of Ancoats, agrees with Boston Tea Party that, for independents, disposing of disposable cups is a step too far. Ancoats offers compostable vegware coffee cups – and does not think refillable cups are the answer. "Everyone's jumping on the bandwagon of creating refillable coffee cups and then they get binned, so it defeats the object," he says.
Nevertheless, independents are demonstrating what can be done to meet environmental and customer demands – and boost their bottom line at the same time.
Deposit Return Scheme raises questions for scottish retailers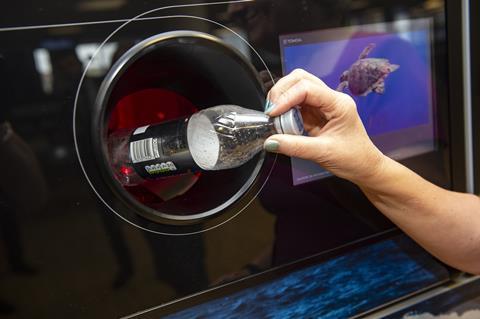 Some plastic-reduction initiatives will become mandatory due to forthcoming government legislation. The Scottish government will introduce a DRS scheme for all retailers by 2021, while the UK government is making similar plans.
In Scotland the scheme will include glass, plastic and aluminium drinks containers of all sizes – and retailers will be required to accept returns over the counter if they do not install reverse vending machines (RVMs). A deposit of 20p has been set.
Premier Broadway in Edinburgh was one of three stores to take part in a trial of an Envipco RVM. The store funded a 10p voucher per container recycled to the customer, which they were encouraged to donate to charity. "The local school received a cheque for over £1,300, the customers were delighted with their 10p vouchers to spend in store, and the machine itself was simple to operate," reports owner Linda Williams.
However, all three trial stores reported concerns: how will an RVM – costing circa £12,000 – be funded? For stores collecting returns manually, where would they be stored, and how often would collections be? Will the levy be on-can, or on-shelf, or at the till point?
"So many questions, but the crucial one remains," Linda adds. "At what level will the handling fee for retailers be set? At the very least, this needs to be cost neutral. We are businesses with bills and staff to pay, and it is simply unfair to expect us to shoulder the burden of yet another societal problem."
The Scottish government is yet to provide any answers.
Pioneering technology extends life of fruit and veg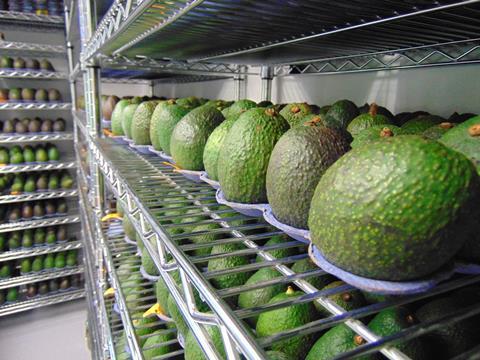 The shelf life of fruit and veg sold loose could be extended by up to four times thanks to pioneering new technology set to enter the UK market.
Major UK retailers will begin selling avocados treated by the so-called Apeel technology from later this year, after it recently gained EU regulatory approval.
The avocados will be teated and distributed from Netherlands-based distributor Nature's Pride.
James Rogers, ceo and founder of the US-based Apeel Sciences, which developed the formula, says the technology is a "dream for small retailers", who currently face waste challenges when selling fresh food.
"You can't see it, taste it or feel it," he tells C-Store. "It adds two, three or four times the shelf life. The UK market is fully developed and looking for a solution. The distribution opportunity is massive for suppliers."
Apeel adds a layer of plant-derived protection to the surface of fresh produce to slow water loss and oxidation – the factors that cause spoilage.