A growing number of retailers are making their stores the place to go for sustainability by cutting plastic use and increasing take-up of renewable products. C-Store explores how these operators are investing in a form of retailing that is not only helping the environment, but their sales.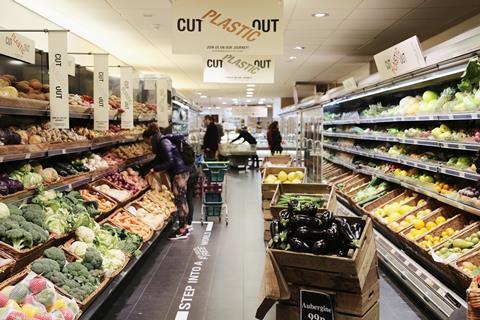 The sudden realisation that society's reliance on plastic is no longer tenable, sparked in no small part by David Attenborough's Blue Planet series on the BBC in early 2018, has resulted in great change across the retail industry. There's government legislation to reduce plastic consumption; sweeping packaging changes by brands; and the growth in popularity of plant-based alternatives to plastic cups, cutlery and plates.

Taking advantage of greater consumer awareness of the environment can transform a retail outlet, as Andrew Thornton, owner of Thornton's Budgens in Belsize Park, London, has found out.

Working with his store leader Daniel and the rest of the Belsize Park team, Andrew has created plastic-free aisles and made tremendous effort to make his store the go-to place for environmentally-aware consumers in London and beyond.

He says: "Customers have reacted incredibly well to our plastic-free areas. It is something that no one else does and it makes sense because we've made it possible for them to do a full plastic-free grocery shop in our store.

"In the week when the plastic-free aisles first launched last year, sales increased by 6% and they have been tracking 4% up year-on-year ever since. Shoppers say they want to reward us with their custom and we've also attracted new customers, too."

Andrew thinks many people come to his store because they believe the option of plastic-free shopping should be the norm. He reports that some customers even travel up to an hour just to do a weekly top-up with him as a result.

He adds: "Many people have come up to me and said they shop with us because plastic-free is something everyone should be doing. I think we're the first of the big companies to do what we're doing and get a lot out of it."

The plastic-free zones, accompanying campaign and social media activity at Belsize Park are certainly pioneering and as well as being a hit with consumers and attracting widespread national and international press attention, the positive results at Thornton's Budgens are inspiring other retailers to think differently.

Pratik Patel, owner of Jay's Budgens, Crofton Park in South-east London, has similar plans for his store. He says: "I've been to Andrew's store and really like what they've done there. We had our own plans to go plastic-free, but they just pipped us to the post so we're in the process of planning how we can take things further.

"It's definitely something that is going to evolve over the next few years and we'll stay open to suppliers who continue to introduce new alternatives that contain less plastic. I think our customers will respond well to the changes."

It seems Pratik may be wise to jump on the plastic-free bandwagon, as a recent survey of consumers in the UK suggests nearly 90% believe society should be more resource-efficient. In fact, 60% said they would accept lifestyle changes to achieve this goal (Centre for Industrial Energy, Materials and Products report, November 2018).

So what can independent retailers do to lead this step change? Well, the guys at Eat 17 may have the answer.

Over the past 13 years, co-owners James Brundle and Chris O'Connor have built up a portfolio of four convenience stores, which have a reputation for offering sustainably- sourced local products and unconventional dining experiences.

James explains: "We've tried to be seen as a sustainable business for a good many years. Even before the need to go plastic-free hit the mainstream we were trying to do our bit.

"Our shoppers are more often than not concerned about the environment, which is why we make it clear that a high proportion of our range is local, or made by us in-house."

All Eat 17 stores, including those in Hackney, Bishop Stortford and Hammersmith, use local suppliers and feature refill stations for a huge variety of products including wines, detergents, cereals and pulses.

Paper bags and wooden cutlery are used instead of plastic where possible, and James and Chris have started packaging their own-brand ready meals in recyclable containers.

"We're not 100% there, but we have proved to our customers that we are conscious about the environment," James asserts.

"People are definitely more aware now than they were 12 months ago. It's not always cheaper for us to stock the eco-option, but the refill stations work out better for customers because they mean they can buy only what they need."

And even when food is left over, Eat 17 donates the products to foodbanks via the Olio app. Reduced-to-clear items are also positioned close to the tills, to help minimise waste.

Product switches

Retailers shouldn't forget that small changes to their product mix can also be an effective tool to increase the sustainability of their business.

A recent international survey conducted by Unilever revealed that a third of consumers (33%) are now choosing to buy from brands that they believe are doing social or environmental good. This offers an opportunity for c-store retailers to tap into this ethos by specially selecting products that have a sustainable selling point, creating a new image for themselves into the bargain.

Conrad Davies, owner of Spar Market, Pwllheli, has done just that, differentiating himself from discounter competition by making his store more upmarket and introducing more sustainable products.

Much of Conrad's range is sourced from more than 70 local suppliers, with fresh fruit and veg from Liverpool and meat and fish prepared by six in-house butchers.

He says: "It's all a point of difference for us. When you have the likes of Co-op trying to do similar things with their range, you have to stay ahead of the competition.

"Customers are now more aware of the sustainable foods they can buy, which is why we pack all our bakery and fresh products in brown paper bags."

This focus on local and adapting to shopper trends has led to an uplift in sales of almost 8% for Conrad and improved Spar Market's credentials as an eco-friendly business.

He adds: "I think the trend for environmentally-friendly products is only going to get bigger. I've certainly noticed that customers are choosing more of the alternatives with less packaging."

Meanwhile, Andrew has taken things a step further by replacing some established brands with smaller supplier equivalents which are both plastic-free and suit the store's ethical remit.

He says: "We are actively looking for suppliers who offer products that are renewable or plastic-free. If they can deliver to us then we will definitely consider kicking out a similar big brand that uses plastic.

"At the moment, we are looking at our toiletry range and deciding how we can offer alternatives to bottled shampoo and shower gel. It's likely that the plastic-free lines won't be stocked anywhere else so that's another benefit for us."

Self-serve snacks

Pratik has also made innovative changes in Crofton Park, investing in gravity bins to make the most of growing demand for vegan products and plastic-free snacks.

The unit, which takes up about two metres of space, allows customers to create their own mix of dried fruits, nuts and pulses and take them away using paper bags and a series of self-serve dispensers.

Pratik explains the idea behind the bins: "A lot of the customers that come into our store are interested in eating more healthy foods and they can pick up snacks from the gravity bins on the way to work or school.

"Because we have quite a lot of mums with kids coming into the store, we want to be the type of retailer that is doing the right thing and encouraging them to eat fruit rather than chocolates and sweets," he says.

The average price for a small bag filled using Pratik's gravity bins is comparable to a bag of crisps or sweet treat, costing between 50p to a £1, depending on the type of snack.

It is this accessible pricing that has encouraged more customers to embrace his store's ethical product range and made the bins a worthwhile investment for Pratik.

He adds: "The demand for products that are sustainably sourced, with less plastic and natural ingredients is growing all the time and we need to keep up with demand.

"We have quite a bit of competition from a number of local Co-ops where we are, so if we don't offer something different then we won't hold on to our loyal customers."

Making such radical changes to a c-store in the name of sustainability might seem daunting, but for James it's been worthwhile.

He believes others shouldn't be afraid to set a precedent in their area and try a different way of retailing. "I think trying to move away from plastic is a good place to start, because there are alternatives out there and more hitting the market all the time," James says. "Once you find a good supplier then you can get the options right for your store, which has worked really well for us and is now an essential part of our business."

Andrew is similarly upbeat. "You don't have to be the first to do something like a plastic-free zone or try a new eco-product, but the earlier you act the greater the reward.

"Customers are only going to care more and more about their impact on the environment and are looking to businesses and suppliers to guide them, even if that means paying a bit more for it."

Andrew argues it is always important for retailers to make sure that what they are doing is obvious and easy for shoppers to understand, whether they are saving energy or being more renewable.

He adds: "I think our model has proved that there is a real need from consumers to make a change. It won't be too long before things like plastic-free aisles and brands become the norm."

To make sure that retailers stay ahead of the game, Conrad is encouraging store owners like him to learn from each other and look beyond the UK for inspiration.

He says: "Now is a good time to get out there and visit some of the pioneering retailers that are doing amazing things in this area. There are great examples from almost all the symbol groups.

"There is no shortage of places you can go to see what can be done, either. I recently visited stores in Ireland and Holland and they've given me plenty of ideas for the year ahead."
The Facts
92%
of consumers say sustainable business practices should now be standard
91%
of consumers think businesses/brands that pollute the environment should be fined
90%
of consumers say that businesses/brands have a responsibility to take care of the environment
54%
of consumers think they themselves could be doing more to try to live more sustainably
Source: The Innovation Group, The New Sustainability: Regeneration report, September 2018
Case Study
Reverse vending machine proves a hit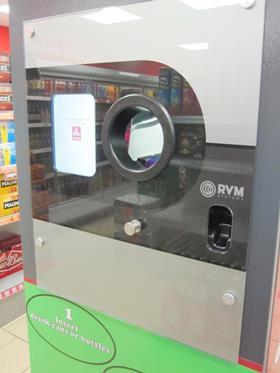 Mo Razzaq, owner of Family Shopper Blantyre, has installed a reverse vending machine to recycle drinks bottles, cans and glass.
Shoppers using the machine can donate 10p to a choice of four charities, or receive a discount coupon for Mo's in-store dessert bar as an incentive.
The unit was donated by RVM Systems as part of a six-month trial. It is the first partnership of its kind in a Scottish c-store and one that Mo hopes to continue.
He says: "I've been surprised by how well customers of all ages have taken to it. The machine has attracted lots of attention from local politicians, environmental groups and schools.
"We've marketed it a lot on social media, creating our own videos to show people how to use the service. Customers seem to really understand how it works and it's been simple for us to manage."
Since the machine was first installed late last year, footfall in Mo's dessert bar has jumped by 22% and the unit has helped bring in more customers.
Mo claims that more than 100 bottles and cans are now being returned through the machine each day.
Smart Solutions
Ticket rails with reduced plastic waste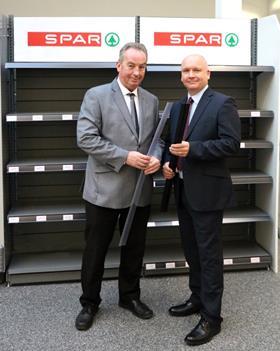 Spar wholesaler James Hall & Co is aiming to reduce the plastic used in its stores with a new design of ticket rail.
Enviro-2 is a two-part ticket rail developed in partnership with Concept Data Display, which claims to reduce the amount of plastic waste created by 40%.
The patented design allows the replacement of the clear plastic front of the ticket rail when it becomes worn or damaged, rather than the entire unit.
Following an initial trial, the rails are now being fitted across James Hall's estate of Spar stores.
Keith Rose from James Hall Store Design (pictured left with Dave Saunders, sales director of Concept Data Display), says: "As Spar UK wholesaler for the North of England, James Hall & Co is committed to addressing sustainability issues within the industry.
"The new ticket rails were trialled in our newest company-owned store, Spar G&E Murgatroyd Kirkby Stephen, and the two-part ticket rail will now be rolled out across our retail portfolio."