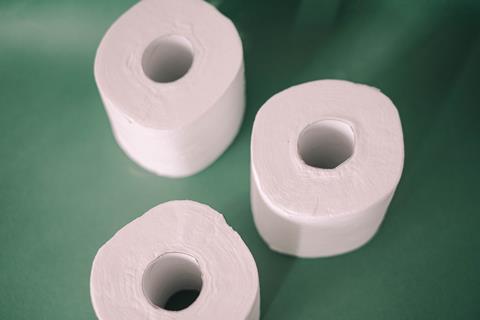 Pleas from all sections of the retail industry went unheard as reports of pre-Christmas toilet roll stockpiling were revealed.
According to data collected across PayPoint's UK network of 27,500 local convenience retailers during October to December 2020, the non-food, paper and disposables category saw the largest increase compared to the previous quarter, up 22% in sales. The rise in this category was driven by toilet paper, which was in high demand during the first lockdown in March 2020. When the November lockdown was announced, there had been encouragement from retail bosses not to panic buy or stockpile to avoid shortages like in the first lockdown.
Second-class stamps also saw a rise in demand, driven by the Christmas season while mobile phone calling cards saw 18% growth quarter-on-quarter, attributed to more calls being made over the festive period as families were discouraged from getting together in person.
The research also found that the average spend at local convenience stores rose to £8.47 during the quarter, a 4% increase on £8.14 in Q3 2020 and an 11% year-on-year increase, up from £7.64 in Q4 2019.
CEO of PayPoint Nick Wiles said: "The announcement of another national lockdown in November and general guidance saw the population turn to their local convenience stores once more. The data shows that while Christmas was different this year, seasonal merriment and a desire to celebrate with loved ones, albeit remotely, were still pillars of our end-of-year plans."
PayPoint's Convenience Basket Register, which highlights two of the biggest selling items during the quarter across six key categories: bread & cakes, chilled & fresh food, confectionary, frozen food, grocery and off licence, saw Red Bull replace Volvic water.
The contents for Q4 2020 were:
1. Hovis soft white medium (800g loaf)
2. Peters sausage roll (single)
3. Robert Wiseman Dairies semi skimmed milk
4. Peperami Original (22.5g)
5. Cadbury's Dairy Milk (95g)
6. Kinder Bueno white (39g)
7. Red Bull energy drink (250ml can)
8. Coca Cola (1.5l bottle)
9. Party ice cubes (bag)
10. Bobbys Ice Snappers (single)
11. Stella Artois (4-pack pint cans)
12. Magnum Tonic Wine (20cl bottle)
Retailer support
In response to the new national lockdown measures implemented for the first quarter of 2021, PayPoint has diverted two thirds of its sales force to work with existing customers on getting the most out of PayPoint One's capabilities and data insights.