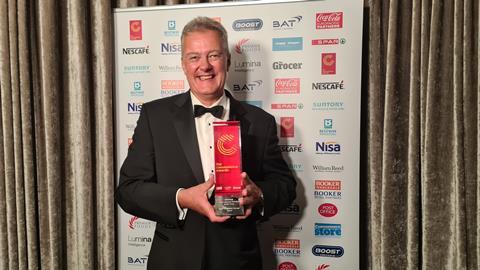 Spar Parkfoot in Kent has been named Convenience Retailer of the Year at The Convenience Awards 2021.
The store won the Independent Convenience Store of the Year category at the ceremony in London and went on to win the overall prize of Convenience Retailer of the Year.
Owner David Charman was overjoyed to win the award. "It's been a difficult year for all of my staff and this is a fantastic reward for them."
He explained how his team has helped customers during the pandemic. "We've really focused on what the customer wants and we've tried hard to give them that, and we've also tried to make sure that the site runs safely and carefully throughout everything that's happened over the past year. We're really proud of how we've looked after our staff over the past 18 months but it's a great reward for all the effort."
David added that retail still drives him forward and encouraged similarly passionate retailers to treat it the same way. "You have to get out of bed in the morning and this is a business that makes you want to do that. I still get a great kick of doing that. You've got to focus in on the detail and that seven days a week, your store is at the level it needs to be."
Managing director of Spar UK Louise Hoste said: "It was fantastic to be shortlisted for this highly competitive awards ceremony and tremendous to see SPAR Parkfoot named Convenience Retailer of the Year. We are also very pleased for Mulkerns EUROSPAR who won a hat trick of awards and SPAR Malone Road on winning the Multiple Managed Convenience Store of the Year category. Our stores have worked tremendously hard over the last year, so it is fantastic for them to be recognised for their innovation and forward thinking. In the fast-paced environment that we operate in, it is important to keep ahead of the game and this is why our stores are successful."
Other winners on the night included Tout's Langford which won Large Convenience Store of the Year; Ash's Shop which won Small Convenience Store of the Year and Spar Malone Road which won Multiple Managed Convenience Store of the Year. On the research awards side, The Shoppers' Favourite Convenience Fascia category was won by Co-op.
The coveted Sales Colleague of the Year category was won by Natalie McKerracher of Scotmid Menstrie.
Editor of ConvenienceStore.co.uk Aidan Fortune explained why Spar Parkfoot won the top prize in convenience retailing. "David and his team are constantly innovating and investing in the store, placing the customer at the very heart of every decision they make. Throughout the pandemic, they worked hard to ensure their shoppers had everything they needed, from maintaining a steady supply of grocery essentials to introducing new services like home delivery and a hot food brand."
He stressed the level of competition for this year's awards. "Our judging panel had an extremely tough job deciding on the finalists and winners. Even with everything that retailers have had to face over the past 18 months, they have displayed fantastic resilience and a willingness to take their businesses to the next level. The dedication shown to their communities is a testament to every retailer out there, and while only one store can win Convenience Retailer of the Year, all retailers throughout the UK should be proud of the work they've done and be applauded."
Jill Livesey, managing director at Lumina Intelligence and Lorraine Hendle, managing director at The Grocer and Conveniencestore.co.uk said, "UK Convenience retail is thriving, with retailers cementing their positions at the heartbeat of local communities. Innovation has been key to growth, with convenience retailers leading the way within UK food and drink through tech enhancements, sustainability measures, partnerships and at-home occasions."
"Last night, saw the entire convenience community come together at The Londoner Hotel to recognise and celebrate the achievements of individuals, initiatives and businesses that are pioneering of our brilliant industry. Huge congratulations must go to our winners; however, every single award was incredibly closely contested, showcasing the high standards set across the entire industry."
Brought to you by ConvenienceStore.co.uk, The Grocer and Lumina Intelligence, The Convenience Awards 2021 was kindly sponsored by Bestway, Booker, Boost Drinks, Coca-Cola Europacific Partners, Nescafe, Nisa, Post Office, Premier Foods, Snappy Shopper, Spar and Suntory Beverage & Food GB & I. Thanks also go to activation sponsors Kind and William Grant.
The Convenience Awards 2021 winners
Sales Colleague of the Year: Natalie McKerracher, Scotmid Menstrie
Community Retailer of the Year: H & Jodie's Nisa Local
Convenience Rising Star of the Year: Enya McAteer, Mulkerns
Retailers' Retailer of the Year: H & Jodie's Nisa Local
Customer Delivery Store of the Year: MJ's Premier
Sustainability Retailer of the Year: Mulkerns EuroSpar
Food to Go Store of the Year: Mulkerns EuroSpar
New Store/Refit of the Year: Welcome - Brockenhurst
Small Convenience Store of the Year: Ash's Shop
Large Convenience Store of the Year: Tout's Langford
Independent Convenience Store of the Year: Spar Parkfoot
Multiple Managed Convenience Store of the Year: Spar Malone Road
Convenience Retailer of the Year: Spar Parkfoot
The winners of The Convenience Awards 2021 research categories are:
The Shoppers' Favourite Convenience Fascia for Chilled & Frozen: Spar
The Shoppers' Favourite Convenience Fascia for Impulse Categories: Premier
The Shoppers' Favourite Convenience Fascia for BWS: Nisa
The Shoppers' Favourite Food to Go Fascia: One Stop
The Shoppers' Favourite Forecourt Fascia: Nisa
The Shoppers' Favourite Symbol Group: Budgens
The Shoppers' Favourite Managed Convenience Fascia: Co-op
The Shoppers' Favourite Convenience Fascia: Co-op
The Retailers' Favourite Product Launch: Orange Twirl
The Retailers' Favourite Supplier Salesforce: Coca-Cola
The Retailers' Favourite Convenience Fascia for Category Support: Spar