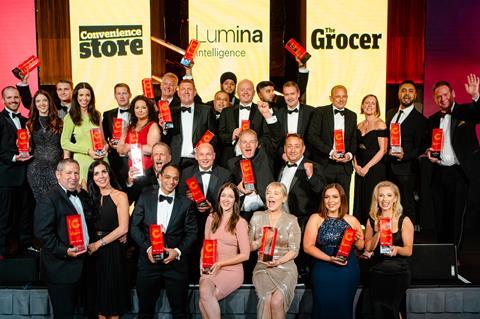 The Convenience Conference and Awards are to return in 2022.
The Convenience Awards will be held at The Londoner Hotel on Tuesday 13 September 2022 while The Convenience Conference will be held at 30 Euston Square earlier the same day.
This event brings together the leaders in convenience data, insight, coverage and events – Conveniencestore.co.uk, Lumina Intelligence and The Grocer – for a day of inspiration and an evening of celebration that sees the entire convenience community come together
The Convenience Awards 2021 saw Spar Parkfoot in Kent crowned Convenience Retailer of the Year while Co-op was recognised as The Shoppers' Favourite Convenience Fascia.
The Convenience Conference saw presentations from some of the top names in the sector including Booker's retail managing director Colm Johnson, AF Blakemore's managing director of wholesale distribution James Russell and former Sainsbury's CEO Justin King. Attendees were also treated to panel sessions focusing on the growth of delivery services and the rising stars of the convenience channel.
Jill Livesey, managing director at Lumina Intelligence and Lorraine Hendle, managing director at The Grocer and Conveniencestore.co.uk said: "This year saw the UK convenience community come together for a brilliant day of inspiration and celebration at the first-ever face-to-face edition of The Convenience Conference & Awards. We are excited to announce that this full-day event will be returning in September 2022.
"The convenience retail industry continues to innovate and inspire in the face of challenges and uncertainty. It is this inspiration and innovation from across the entire supply chain that we cannot wait to put in the spotlight and showcase in London next year. We look forward to seeing you all soon."