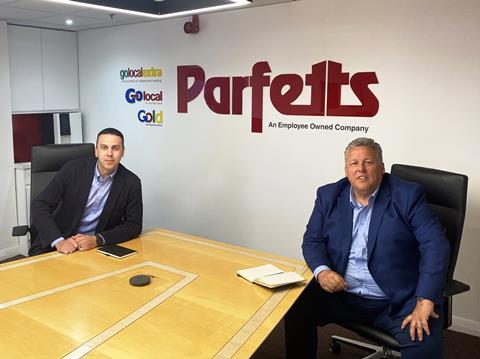 Parfetts has announced Guy Swindell and Noel Robinson as its new joint managing directors.
Guy Swindell has been promoted from retail director, where he has led the company's expansion in recent years. He has spent over 20 years at Parfetts.
Noel Robinson joins Parfetts from Bestway, where he has spent the last three years relaunching Bestway Vans and taking responsibility for Best Pets. He has held several senior roles within wholesale.
The two will take up their full roles on 1 January 2022.
Current joint managing directors Greg Suszczenia and David Grimes will remain in their roles until 1 January 2022 to ensure a smooth handover. Suszczenia will become chairman of the executive board and continue to represent Parfetts on the Unitas board.
Grimes will stay on the Parfetts executive board as continuity director until June 2022. To help ensure further continuity, Suszczenia and Grimes will also take up two new positions on the Parfetts Employee Trust Board from 1 January 2022.
Suszczenia said: "I'm super proud of what the company has achieved in the last 12 years. Challenges and opportunities never go away, namely, how to maintain growth of sales and profitability while keeping our employee-owned status and culture. It sounds easy, but it isn't and needs renewed vigour and enthusiasm to take our company to its next major milestone of £1bn turnover; this can only come from a fresh leadership team. In Guy and Noel, we have a wealth of knowledge and talent to do just that.
"As chairman, I will do my best to be a good one and look forward to watching the business grow and develop. I would like to take this opportunity to thank all colleagues, both past and present, for all their hard work that has got us to where we are today."
Swindell said: "Greg and David have done a fantastic job in guiding the company through a period of rapid growth while maintaining a customer-focused culture that is unrivalled in the sector. As an employee-owned company, we are uniquely positioned in the industry with a model that clearly benefits our customers and is the ideal partner for suppliers. I look forward to working with Noel and the rest of the team as we continue to develop the business and drive growth."
On his new role, Robinson said: "I have over 30 years of experience in wholesale, but I'm excited to be joining an employee-owned business with such a great culture, track record and future ahead of it. I'm looking forward to working with Guy and my new colleagues, together with customers and suppliers, to develop mutual business growth moving forward."
Other changes within the company include Iain Martin being promoted to the role of financial director from financial controller. He has been the company's financial controller for fifteen years.