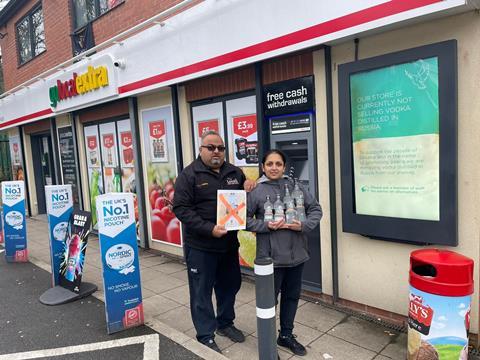 Retailers have removed Russian Standard Vodka from shelves in response to the ongoing Ukraine conflict.
Southern Co-op said it was one of several Co-op groups to stop selling Russian Standard vodka.
It said: "We're gravely concerned by the situation in Ukraine and the devastating consequences this is having on its people, many of whom have fled the country. We will be standing alongside a number of co-operative retailers in the UK and removing all Russian Standard vodka from sale."
It added that it will be making a donation to support those in the Ukraine. "We are joining with others in doing what we can to support those caught up in this terrible conflict including making a donation of £10,000 to the Disasters Emergency Committee's appeal. We will also be making it possible for our customers to add to this by making their own donations via our till points."
Commenting on social media, Nash Dhindsa of the Liquor Cellar in Solihull said he wouldn't stock Russian Standard Vodka in his store until the conflict is resolved. Other retailers stated they would continue to stock the product while some said they'd speak to their customers about it before making a decision.
Go Local Extra retailer Sasi Patel is also removing the product from his store. "To support the people of Ukraine and in the name of promoting peace. We will be removing Russian Standard Vodka from our shelves – please ask a member of staff for advice on alternatives. We simply are asking for peace."
As reported by The Grocer earlier this week, Halewood Artisanal Spirits is moving production of its JJ Whitley vodka brand from Russia to the UK.