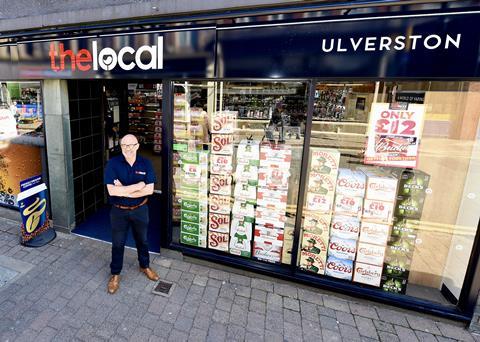 Parfetts has launched a new fascia focused on the off-licence sector.
The Local is being billed by Parfetts as "offering the same simplicity that has helped Go Local become one of the fastest-growing symbol groups in the UK".
All retailers in The Local fascia will benefit from a 2% rebate, free delivery and regular promotional offers across a wide range of beers, wines and spirits.
According to Parfetts, The Local brand has been evolved over a number of years, initially as an offer to the on-trade and more recently as a branded area within Go Local and Go Local Extra. The launch follows extensive research with off-licence retailers to identify how their experience can be improved.
Parfetts retail director Guy Swindell said: "We've launched The Local in response to customer demand and detailed research. Off-licence customers visiting our depots have increasingly sought ways to work with us more closely, and retailers frequently approach us from rival fascia groups. The launch of the new fascia creates a new platform for our retailers' growth, where we are closely aligned with their businesses and focused on delivering great value and logistics."
The first The Local site has been opened by Haydn Hicks in Ulverston in Cumbria. "I was flattered to be asked to be the first store owner to work with Parfetts on bringing its dedicated alcohol focused stores to life. Having been with Bargain Booze for 22 years, it was time for a change and a new challenge, where I felt I could bring out the benefits of independence that my customers will love. The Local is a great concept and has given me a new lease of life, along with an immediate increase in margin of 8%.
"I have my independence back and the flexibility to use my expertise to work with customers to give them what they want, responding to the latest tastes and trends popular in the drinks world. I'm developing relationships with local craft brewers, which means I'm introducing the communities I serve to premium quality, locally produced beers and spirits. A one size fits all approach to retailing is not a model that Parfetts subscribes to, and this allows independence to flourish.
"As a third-generation retailer, it's great to be working in close partnership with the team at Parfetts. They really understand me as an independent business operator and provide all the support and backing that I need whilst allowing me to get on with what I'm good at. I'm really looking forward to making a success of The Local and establishing a brand to be proud of."
Sasi Patel has three Go Local Extra stores in the North-West and opened his first The Local store in Bacup earlier this month. He said: "This is a great opportunity to build on the success I've already achieved with Parfetts. I've wanted to focus on a standalone alcohol store for some time, and launching The Local has presented the perfect opportunity.
"Working with Parfetts means I can enjoy higher margins and benefit from a simple rebate scheme that is easy to administer. The delivery service and availability are excellent and, along with regular promotions, allow us to trade effectively.
"As I know what my customers like and want to spend money on, I'm looking forward to seeing their reaction to the broad range of stock from a dedicated craft beer and cocktail section to a variety of whiskies from all over the world ranging in price from £10 to £800 a bottle. We've created something special with The Local, which will change customer perceptions of the traditional convenience off-licence forever."
Although Parfetts has set out the goal to grow the Go Local symbol group to 1,000 members over the next two years, Swindell said "it is too early to put targets on our ambitions for The Local".
"At this stage, it's about talking to the retailers who share our values and appreciate the flexibility that Parfetts offers."