The coronavirus crisis could prompt a new wave of "exciting food and drink concepts," as independent entrepreneurs seek out new and innovative ways to merge foodservice and retail and meet consumer demand, Eat17 claims.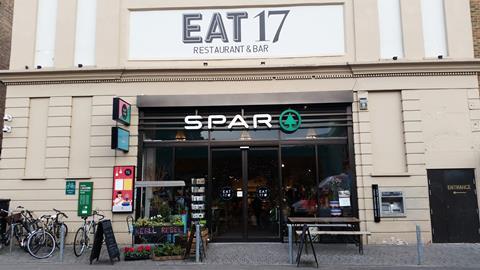 The London-based Spar store and restaurant chain has itself adapted to the current lockdown situation with new marriages between its retail and restaurant businesses.
With its Walthamstow restaurant temporarily closed, the Eat17 team have expanded their neighbouring Spar store into the space, in a bid to cope with increased demand.
The move has resulted in the store growing its range of home-made artisan bakery products, most of which is baked at its Bishop's Stortford Spar store, which also now supplies a number of other independent retailers in and around London.
The business has also started doing some home deliveries using the Deliveroo and Snappy Shopper apps with approximately £8,000 a week now being made through the home delivery channels, Eat17 co-founder James Brundle said.
In their Hackney store, the Eat17 team of chefs have also created a new range of 'Eat17 homemade' ready to go food for now and later.
The range varies from a chicken and bacon club sandwich through to Vegan Thai curries and Lobster Bisque.
Meanwhile, in Hammersmith, the store team have been working with street food brands to develop concession units.
"We're in the middle of an unfortunate disaster. It's not something anyone would ever wish to happen, but what I love about our retail and restaurant community is that they're not just sitting around waiting for it to end and wishing for it to be over," Brundle said.
"They are using their time to start something new or solve the problem and we feel there is a great opportunity for retail and restaurants to merge and start a new wave of exciting food and drink concepts.
"From our recent success we hope to see more restaurant businesses think about how they can diversify and work with retail. We've seen how we can supply foodservice through our grocery stores and delivery service. Maybe this pandemic will mean a new wave of Eat17 franchise start-ups," he added.
"I would have loved to have had a franchise resource up and running before the lockdown. I believe our business model is well-positioned for the new normal, and people will be craving great food and drink within exciting retail concepts as they come out of lockdown.
"The challenges we are facing force us to be creative and quick to respond and we have seen great ideas come out of this - ideas that also help give back to the community and bring us all closer together."