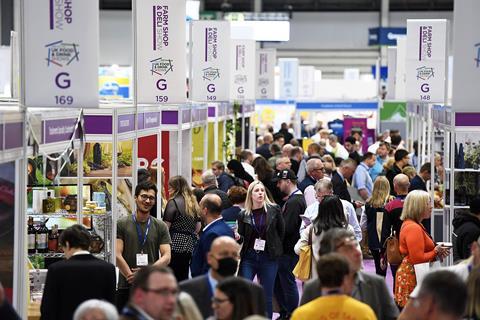 After a Covid-19-enforced gap of two years, the National Convenience Show returned to the NEC in Birmingham and was back with a bang.
With four shows taking place at the same time - National Convenience Show, Farm Shop & Deli Show, Food & Drink Expo and The Forecourt Show – there was no shortage of innovation and insights on-hand for visitors.
At the National Convenience Show, industry experts gathered at the Retailer Hub to discuss the key topics affecting the convenience sector.
Support network
The Rising Stars panel showcased some of the emerging talent in the convenience sector. We were joined by Enya McAteer of Spar Mulkerns, Nishi Patel of Londis Bexley and Lewis Prager of Best One Preens. The panellists discussed their plans for the future, how they engage with their customers and how it's important to ask for help. All three speakers stressed the importance of having a support network to help with decisions. "Ask questions, it's allowed me to grow as a business," said Lewis. "Don't be afraid to ask questions." He also urged new retailers to be adaptable.
Enya encouraged retailers to invest in their staff and "take them along with you on your journey" while Nishi warned that anyone looking to enter the industry should be prepared for some long hours.
They identified inflation as a main challenge for 2022. Enya said retailers would have to try and balance that out. "We're trying to promote value in our store to get the customers in and keep them. But we're also trying to keep our margins at the same time, which can be really difficult, because you don't want to rip off the customer."
Inflation was also discussed in the Channelling Growth: The state of convenience 2022 session which features group marketing director at A.F. Blakemore & Son Sarah Ellis, BP's vice president convenience Europe Jo Hayward and One Stop head of franchise John Miller.
Ellis warned that inflation and supply chain would two of the biggest challenges for the sector in the next year while Hayward said there was more to come on digital within convenience. She also raised the issue of staffing issues, and how maintaining loyalty is key.
The three experts said that staffing issues were prevalent throughout the industry and that keeping employees engaged with the prospect of development was essential for retailers.
Premiumisation
In the session on premiumisation, Raaj Chandarana of Tara's Londis, High Wycombe and Anand Cheema of Costcutter in Falkirk discussed the opportunity of upselling to customers. Anand detailed how he was able to sell bottles of spirits for £3,500 although he was quick to point out that there's an opportunity to upscale basket spend on a smaller scale, particularly in the confectionery while Raaj growth in the home cooking and food to go categories. Raaj encouraged retailers to give new lines a shot to try and improve the shopping experience for customers.
Sustainability
How retailers can improve their sustainability credentials was discussed in Sustainability in convenience: what does the future hold? Featuring sales director of HL Display Mark Boston, founder of Feel Good Drinks Ed Woolner and Insights Manager at Lumina Intelligence Maria Georgiou, the session looked customers expectations surrounding sustainability and how retailers should be looking at the next generation of shoppers who are more mindful of the issue.
Crime was also a key focus at the Retailer Hub at the National Convenience Show, with Susan Connolly of Connolly Spar, Debbie Robinson of Central England Co-op and Ed Woodall of the Association of Convenience Stores discussing the impact of crime on shop staff.
All three panellists encouraged retailers to report crime as often as possible so that police forces have an accurate picture of the level of crime in an area while Woodall explained that hopefully business crime was more of a priority for Police and Crime Commissioners than before. Susan explained the level of investments she's made to protect her staff, while Debbie Robinson discussed the mental impact that incidents have had on members of her team.