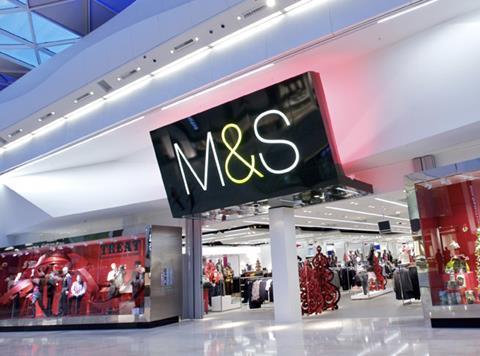 Marks and Spencer (M&S) has announced an online delivery joint venture with Ocado to bring M&S food to internet shoppers for the first time.
Under the joint venture, M&S is to acquire a 50% share of Ocado's UK retail business for a total of £750m - including a deferred consideration of up to £187.5m, plus interest.
Due to commence from September 2020 at the latest when Ocado's deal with Waitrose expires, the deal will be funded by M&S by selling £600m of shares and cutting its dividend payout to shareholders by 40%.
M&S ceo Steve Rowe said he had "always believed that M&S Food could and should be online".
"Combining the strength of our food offer with leading online and delivery capability is a compelling proposition to drive long-term growth. Our investment in a fully aligned joint-venture with Ocado accelerates our Food strategy as it enables us to take our food online in an immediately profitable, scalable and sustainable way," he said.
"Combining the magic of M&S Food with Ocado's leadership in online technology allows us to transform UK online grocery shopping by offering customers the broadest, most innovative and relevant range in UK food retail with award-winning service. This is a transformational step forward in shaping the future of M&S and in becoming a truly digital first retailer with at least a third of the business online."
Ocado ceo Tim Steiner added: "This is a transformative moment in the UK retail sector with the combination of two iconic and much-loved retail brands set to provide an unrivalled online grocery offer.
"We believe that this is the best outcome for customers, offering even greater range, service, quality and value. The combination of Ocado and M&S will allow us to grow faster, add more jobs, and create more value, as we lead the channel shift to e-commerce here in the UK. We are very excited by the many opportunities ahead."
Meanwhile, Waitrose, which has been supplying Ocado with both branded and own-label products since 2000, has outlined its plans to step up its own online presence.
Waitrose managing director, Rob Collins, said: "We have strengthened our own online business significantly and said last summer that we will double Waitrose.com within five years. Today's announcement will be a major part of achieving this and in future Waitrose.com and our shops will be the exclusive places in the UK to buy Waitrose & Partners products.

"Waitrose.com sales are growing at 14.2%, well ahead of the market, and customer satisfaction scores for both fulfilment and the website are showing sustained and significant increases too. We are planning a second fulfilment centre to support our growing volumes in London and will be able to welcome thousands more online customers to Waitrose from the end of this year."