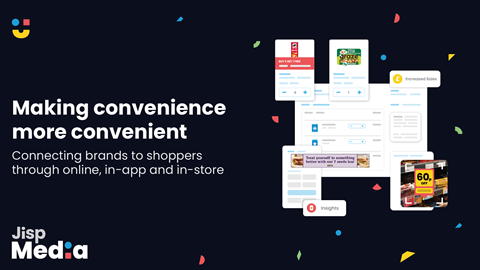 Jisp has launched a new platform, Jisp Media, to help brands engage with retailers and customers in the independent convenience channel.
The platform provides brands with a connected convenience commerce solution, in-store, online and via mobile. From digital vouchering, social media, in-app media and one-to-one personalisation, and broader mass reach campaigns.
Using Jisp Media's connected platform, a brand's communication can be aligned and targeted to complement existing e-commerce strategies, giving the right message to the right shopper at the right time.
Jisp say that the average Jisp shopper adds 2.5 items to their basket and saves on average £3.10 on every visit. The company is already working with brands such as Kellogg's, Mars Wrigley, Heineken, Graze and Birds Eye, amongst others.
Greg Deacon, chief customer officer, said: 'A big voice for a small business' is our mission. How we engineer what we do and how we do it starts with the shopper and drives operational, financial, social and environmental benefits for retailers, wholesalers and brands. We know that convenience stores offer huge sales opportunities for brands. However, the way we attract, engage and sell has largely been the same for past 25 years. We want to ensure we provide a more relevant and personalised offer to assist brands winning in the channel.
"Our new platform will bring together in-store, online and mobile experiences and use it in a way that helps our brand partners to be more efficient, whilst building stronger partnering between retailer and wholesaler. We're excited to work with our suppliers to drive better engagement with customers and add value to their businesses."