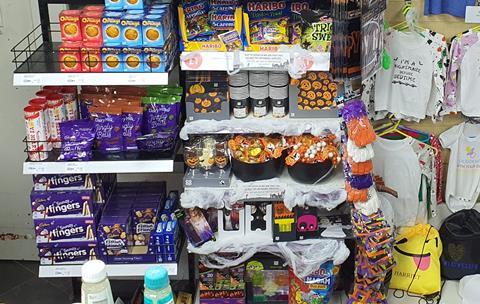 Retailers are approaching Halloween with caution over concerns that it won't offer the same sales opportunity as in previous years due to Covid-19.
Gravesend-based Nisa retailer Harry Goraya has halved his Halloween range after consultations with his staff on the issue. The store has reduced the number of masks, capes and fake blood on sale to 10 - 15 each, as well as completely cutting witch's brooms and hats from its offering
"If you're left with 50% of the stock you would normally sell, that's money tied up for nothing," said owner Harry Goraya. "It just doesn't make business sense to do it."
His staff set up their Halloween display this week and felt there was enough stock to offer customers the essentials.
"We decided as a team, that it's not going to be as big as last year. But we got some essentials in for the people who might want to do Halloween at home, which we're not going to discourage.
"We don't want to completely stamp out Halloween, but we just don't think there's going to be as many people out and about this year."
Goraya added they took the decision to not stock trick or treat buckets this year with the idea it will discourage people from taking part in the traditional activity.
"I just hope people will have common sense and not want to do that. And by not selling that product, we're not encouraging people to think about it either.
"We want them to have fun, but we want them to be safe."
A Nisa spokeswoman that while the event may take on a different look this year, there's still an opportunity for retailers. "While we know it will be different this year, we think shoppers will find ways to celebrate safely, taking into account social distancing measures and other restrictions.
"We've seen some excellent examples of Halloween displays in Nisa partners' stores around the UK with great creative use of POS to attract shoppers and cheer them up during these difficult times."
Fellow Nisa retailer Amrit Pahal of Nisa Local in High Heath, Walsall, said he's gone "harder" on Halloween this year and ordered more Halloween stock than usual, including pumpkin carving kits.
"This year, it's more important than any other year," he said. "There's not a lot going on and it gives the community something to be cheerful about and something to look forward to."
Pahal said he works with B & J Toys every year who supply stands for different holidays and seasons. "It comes with masks, fake blood, make up, everything you need to get ready for Halloween. "This year we wanted to get more people involved."