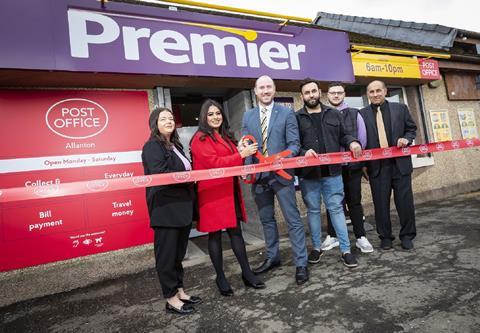 A new Post Office has opened in Allanton, North Lanarkshire, which is the first permanent, like-for-like replacement for a branch previously operated by CJ Lang. Last summer, CJ Lang announced they were closing 31 Post Office counters in their stores.
Martin Roberts, chief retail officer at Post Office, said: "This brand-new Post Office in Allanton demonstrates the many benefits a Post Office provides local residents, businesses and the wider community. Our strategy is to continue to work closely with independent Postmasters, as well as our retail partners, to deliver innovative propositions that drive footfall to their stores and leads to commercial growth for our businesses. The convenience sector is key for us.
"The Post Office network in Scotland is resilient across urban and rural areas. We rigorously analyse data on local demand for services across our network to ensure we have the right provision, in the right locations to meet customer needs. Equally, we recognise that our branches are at the heart of local communities across Scotland and that many people, especially older and disabled people, rely on our products and services."
Postmaster Omar Nasir has taken on this new branch, with locals Lee and Demi Bannatyne running the business and café on a day-to-day basis. The Post Office is open six days a week providing the local community with access to cash and banking services; as well as bill payment, shopping returns, parcel pick-up and other mails services. Accessibility for elderly or disabled customers has been improved as the new location has an onsite car park.
Omar commented: "This shop and Post Office are ideally located for residents, businesses and passing trade. We are on the A71 – the second busiest A road in Scotland with lots of passing traffic. We are very fortunate to have plenty of parking, so the Post Office is in a more convenient location than before and people can easily pop in for the Post Office, groceries and a takeaway. We have lots of elderly people in the village and not all have cars, so it is essential to have a Post Office here. People can also do all their banking and we are open longer hours too. We have been busy from the start and each day we are getting busier as people hear what we have to offer."
Post Office has secured permanent and temporary services for the majority of the areas with closed services. The next permanent, like-for like replacement launches in April in Balintore, Ross-shire with further replacements to be announced in the coming weeks.