Interest in CBD and its apparent health benefits is soaring, spawning a plethora of products containing the oil. C-Store looks at this rising star and what you need to know about stocking it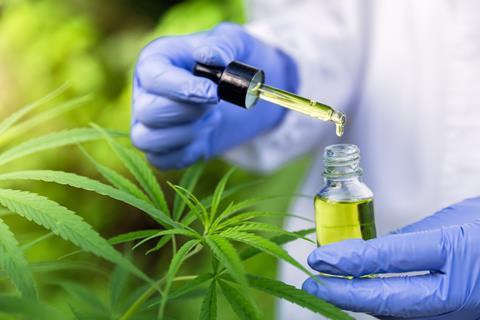 CBD: No doubt this is not the first time you have come across the term. Its association with cannabis has always meant that it was a category destined to be surrounded by hype, exaggeration, scepticism and, to some extent, fear. All of these things have certainly been propagated by publicity in the consumer press (not all of it positive and much of it misleading) in recent years.
"CBD sales have been ticking over nicely since we first dipped our toes into the category last year, and it's clear to me that we could do much more. Shoppers that I speak to are very enthusiastic about the category."

Dave Hiscutt, manager of Londis Western Road in Weymouth, Dorset
Hopefully you've also read some of C-Store's more grounded product news stories and may even have a couple of CBD vape liquids sitting on your gantry or, if your finger is on the pulse, a couple of CBD-infused soft drinks chilling out in your fridge.
But what you may not have known, until now, is just how much of an opportunity those three little letters could spell out.
What is CBD?
CBD, or cannabidiol to use its full name, is a cannabinoid, a substance which is formed in the leaves and flowers of the Cannabis sativa plant.
It is one of a group of more than 100 compounds that naturally occur in the Cannabis plant – the most notorious of which is THC, the psychoactive chemical that leads users to feel 'high' and is illegal in the UK in any concentration higher than 0.2%.
However, and here's the crucial bit, unlike THC, CBD will not give its users a 'high', and provided it doesn't contain THC in levels higher than 0.2% it is legal for sale as a nutritional supplement in the UK.
UK CBD consumption is skyrocketing, and not just among trendsetting millennials, but across diverse age and economic groups. According to new report CBD in the UK by the Centre for Medicinal Cannabis (CMC), "for the first time, robust public attitudes data reveals a high level of CBD use in the UK, demonstrating that CBD has now gone mainstream".
Users, and there are currently an estimated 1.3 million of them in the UK, claim that CBD is helping alleviate a broad spectrum of ailments, from muscle pain to anxiety and sleep disorders.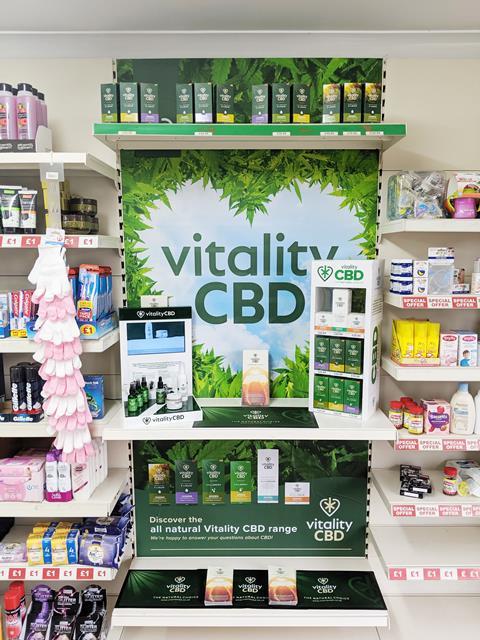 The CMC says UK users are now spending more than £300m a year on CBD products. That's more than the total UK vitamin D (£145m) and vitamin C market (£119m) combined, and between three and six times larger than previous well-quoted estimates.
Then there's its growth rate. According to the CMC, the UK CBD market is expanding by double digits year on year and is expected to be worth just short of £1bn by 2025, equivalent to the entire UK herbal supplement market in 2016. In short, CBD is no fad.
But where do c-stores fit in? Currently only a minority of CBD sales are being made in the convenience sector. Up until now, the main avenue for CBD sales has been online, followed by high-street health food shops and chemists such as Boots, Lloyds Pharmacy and Holland & Barrett, all of whom have invested in growing their CBD offers.
When it comes to convenience, CBD e-liquids for vaping are the most common medium for sale and their use among existing vapers is on the up. Plus, as Vapouriz head of sales Ben Misson says: "While the number of adults starting to vape who have never smoked before is very low, the number of people who are starting to vape because of CBD is growing, albeit from a small base."
As UK vape sales continue their upward trajectory, it's widely expected that CBD e-liquids will play an increasingly important role on the gantry, with many retailers planning to expand their range. Dave Hiscutt, manager of Londis Western Road in Weymouth, Dorset, is one such retailer.
"Currently CBD oils and e-liquids for vaping account for the lion's share of our CBD sales and this is an area that we plan to expand later this year as part of plans to refit our shop counter's back wall display," he says.
"Much of the tobacco range will be moved to drawers under the counter, enabling us to expand our current vaping offer. This in turn will allow us to add a number of new CBD lines, including a larger countertop display, giving the category much greater visibility, something I think it is crying out for."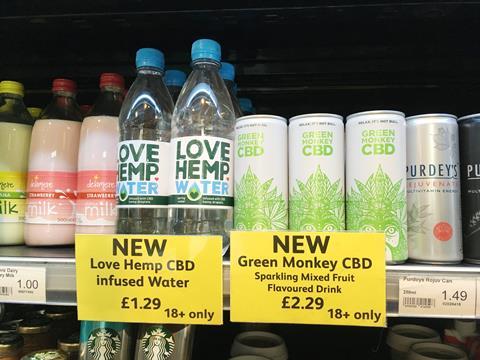 Dave also sells a couple of CBD soft drinks including Love Hemp bottled water and cans of Green Monkey, both of which he says are "selling well".
"CBD sales have been ticking over nicely since we first dipped our toes into the category last year, and it's clear to me that we could do much more," he says.
"Shoppers that I speak to are very enthusiastic about the category. I currently source my range through a number of trusted secondary suppliers including CTC Wholesale and Love Hemp, which I deal with directly.
"Love Hemp, in particular, has been really helpful in providing me with category insight, as has Vapouriz with the e-liquids for vaping that I sell. Going forward, I would like to expand into other categories such as gummies and chocolates, but there's still a lot to learn," he admits.
Expanding into wider areas would certainly be in line with general market trends. On the high street and online, consumers are buying CBD in an increasingly wide range of formats, from oils (the biggest medium of sale) to capsules, sprays and edibles such as gummies and chocolates, plus bath products, creams, salves and rubs. CBD-infused pet treats and foods are also becoming a thing.
The broad consensus is that convenience retailers now have a very real opportunity to grab a larger share of CBD gold.
George Thomas, of Goodbody Botanicals, which manufactures and supplies a range of CBD products for wholesale to retailers, explains: "CBD is still a relatively new category for convenience and so most are only testing the market. However, this is changing rapidly as awareness drives more and more retailers to stock CBD and consumers to actively look for it in stores.
"Convenience retailers looking to grow their CBD offer should expand into oils, capsules and balm – these are the clear formats of consumer choice (in that order)."
The past year has seen a wealth of new CBD brands specifically targeting the convenience sector, not all created equal. One brand keen to highlight its quality credentials is Vitality CBD, which is working on a bespoke range of products for convenience.
Says commercial director Phil Glyn: "In the coming months we're moving forward on product development including closed pod devices, CBD drinks and CBD mouth strips, which will be designed and priced to best fit the convenience industry."
Looking to the not-too-distant future, Goodbody Botanicals' Thomas thinks that "it's highly likely that products containing CBD will sit alongside many leading over-the-counter medicines and food supplements in the convenience channel."
But it's fair to say that the path to getting there may be dependent on clearing a number of hurdles in the years ahead.
Paul Lodge, marketing director of the Rusdene Group of forecourt stores, is one of many convenience retailers who has a good grasp of the opportunities of CPD, but he is also aware of the challenges associated with garnering a bigger share of the growing CBD market.
He thinks the biggest is educating both consumers and retailers alike.
"I think the CBD market is still a very misunderstood area, there is still a lot to be done with consumer education for CBD to grow to its potential," he says, "but there is definitely huge potential."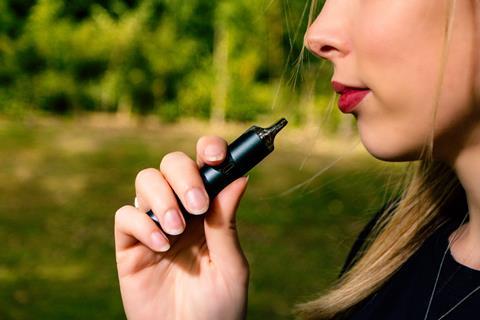 Harry Goraya, owner of Rosherville Post Office (Nisa Local) in Gravesend, Kent, agrees. "Shoppers are certainly interested in CBD, but as retailers we need to be ready to answer questions about what is actually in these products.
"You are always going to get people asking 'Is it cannabis?' So the facts need to be explained to us and to them."
Goodbody Botanicals' Thomas doesn't dispute this. "The biggest hurdle for CBD companies currently and moving into the near future is improving education and awareness around the end consumer," he says.
Prominent in-store displays, clear labelling and informative point of sale will go a long way towards clearing up much of the confusion, much in the same way that the rise in prominent in-store vaping displays has helped to boost understanding of the vaping category.
Professional category management advice is something else that the industry is crying out for, Paul at the Rusdene Group adds. "The range of CBD products is huge so working out which ones will work in a convenience store environment is not easy.
"We are currently assessing our CBD range as we stock only two different types of CBD e-liquid (one unflavoured high strength, and one flavoured weaker strength) so there is definite room for growth," he says.
Of course, with greater understanding comes trust. Despite its rising star CBD is still dogged by misconceptions and a fair degree of scepticism, and this is not helped by the presence of some poor quality products on the market.
As part of its market report, the CMC also organised the first major third-party testing exercise of UK CBD products, and it revealed some shocking results. Only 38% of the products were within 10% of the advertised CBD content and 38% actually had less than 50% of the advertised CBD content. One product, a 30ml high street pharmacy product retailing for £90, contained 0% CBD, while another had 3.8% ethanol (3.4% qualifies as an alcoholic beverage).
Regulatory gaps
The CMC said the testing exposed "regulatory gaps" and highlighted the need for the industry to better "understand the areas of weakness in producing a quality product that consumers can trust".
Needless to say, regulation looks set to play a key role in the future and the CMC is keen that the current legal framework is updated to better reflect this fast-moving market.
Dr Andrew Yates, CMC Pharmacy Lead, elaborates: "Despite its importance and therapeutic potential, and the scale of the British consumer's appetite for cannabidiol, this report shows that we are some distance from the type of CBD sector that we need.
"The UK's legislation is ambiguous, out-dated and fragmented, quality is not defined, product composition is not guaranteed, and poor marketing practices are all too common. UK consumers are being let down as a consequence," he says.
Understanding CBD strengths
CBD oils are available in a variety of different strengths and most brands recommend that users start low and work their way up until they find the appropriate strength to suit their unique needs.
Low: 250mg (2.5%)
Medium: 500mg (5%)
High: 1000mg (10%)
Max: 1500mg (15%)
Goodboy Botanicals introduced the 'Low to Max' terminology after a focus group revealed that consumers were confused by % and mg.
Source: Goodbody Botanicals
The most important and recent new legal development arises from the European Union's Novel Food regulations, which led to the re-classification of all extracted cannabinoids as "novel" in January 2019.
According to the European Commission, novel food is defined as food "that had not been consumed to a significant degree by humans in the EU before 15 May 1997, when the first Regulation on novel food came into force."
The regulations apply to all CBD sold as food or a food supplement (including CBD oil), but not to non-food products, for example vapes, medicinal products and cosmetics.
European member states have been left to decide on how to enforce regulation of CBD, and some are blocking sales based on the classification.
In the UK, the Food Standards Agency (FSA) says that the re-classification means that manufacturers and distributors wanting to sell CBD food products should apply for novel food authorisation.
"To apply for authorisation, businesses need to provide a dossier of information and submit it to the European Commission," a spokeswoman tells C-Store.
However, with such a breadth of CBD products already for sale on the market, the UK authorities are currently taking something of a "hands off" approach to enforcement, according to the CMC, and the FSA says it is still "considering the best way to move these towards compliance".
"We are working with businesses and local authorities to identify a proportionate response for enforcement officers to deal with products already on the market, and to pursue applications for authorisation of these products under the Novel Foods Regulations," a spokeswoman adds.
However, just how long that "hands off" approach stays in play remains to be seen.
Mark of quality
As an industry, "responsible" CBD suppliers are also working hard to highlight their quality and trustworthy credentials on packaging and via POS, a move which could also help to squeeze out some of the poorer quality brands.
The new year will also mark the launch of TrustCanna in the UK – the first comprehensive register of certified UK CBD companies and their products.
About 1,000 products are expected to be included on the register, giving retailers "much greater confidence when buying CBD products for sale in their store," Mike Harlington, chairman of the Cannabis Trades Association (CTA), tells C-Store.
Inclusion requires products to undergo a certification process to ensure that products are "safe, legal and as described".
Products that receive TrustCanna certification will also be able to feature the seal as well as an authorisation number on their packaging.
Retailers and consumers will be able to verify the status of any product and obtain the lab reports on the TrustCanna site by searching for the authorisation number.
As convenience retailers have to work harder to keep footfall buoyant and shoppers engaged, CBD is a category that could well help to boost both of those elements, especially given convenience retailers' unique standing in the community, accessible locations and extended opening hours, versus high-street health food shops.
Clearly, this is another CBD opportunity, one that Cannot Be Denied.
Where the law stands on CBD products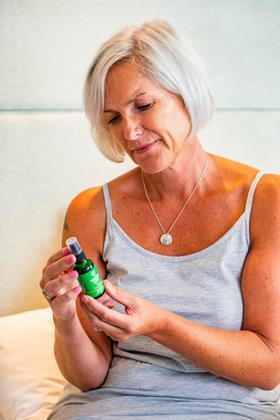 Any product containing CBD that is used for medicinal purposes is a medicine and must have a specific medical product licence, as granted by the UK MHRA.
CBD can also be sold as a nutritional supplement, but it must avoid making any medical claims.
CBD oil in the UK can only have a maximum THC content (the psychoactive chemical found in the cannabis plant) of 0.2%. Any CBD oil with a higher THC content than 0.2% remains illegal and use is prohibited.
Currently there is no age restriction on the sale of CBD, but the Association of Convenience Stores recommends that it is not sold to under-18s.
The Cannabis Trades Association's Mike Harlington also warns retailers to be wary of products imported from the US, as these could contain higher levels of THC than is legal in the UK.
CBD success story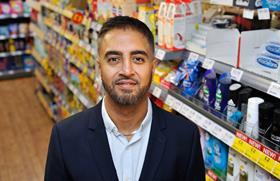 "CBD is doing really well for us. We sell it in a range of formats, from e-liquids for vaping, to sprays and drops. We source from Real Trading, which also provides good education for staff and customers and has helped alleviate my initial worries about selling these kinds of products.
"This kind of product isn't for everyone, but it is good to give people choice and get them talking about our offer."
Atul Sodha