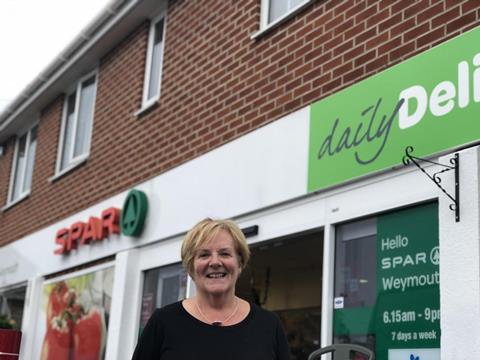 Barbara Clements, a 'Hero of Lockdown', has sold her award-winning store in Weymouth to Appleby Westward in order to spend more time with her family.
She is one of their longest serving retailers, having bought the store in 1986, and moving it under the Spar banner 20 years ago. She said: "I have committed 35 years to this business and when my little grandson Milo was born in the summer, I decided I would like to have more family time with him, my son Jack and his wife Sarah. I'll continue to keep an involvement at my other Spar shop at the Waterside Holiday Park nearby, but only on a part-time basis."
Appleby Westward will add the business to its portfolio of 112 company-owned stores.
Until the pandemic intervened, Barbara's store won the Convenience Retailer of the Year accolade four years in a row at the annual Appleby Westward Retail Awards, in recognition of the high standards maintained in the store and its role as an important hub in the local community.
Its reputation in the community was further enhanced during the pandemic when a home delivery service was established which kept footfall down while boosting sales. At the same time, the store raised £800 for the Marie Curie charity via a variety of fundraising projects.
Keith Roncaglia, head of store operations at Appleby Westward, said: "We are currently recruiting for a new manager and all existing staff will be retained. There is no plan to change the store at all, and our aim is to continue to maintain the high standards and retail offer Barbara has established over the years."