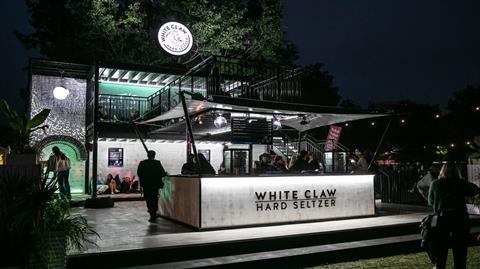 Hard seltzer brand White Claw has announced it will be appearing at over 40 UK festivals this summer, as part of a £4m+ investment in a multichannel summer strategy.
Manufactured by Ireland-based Mark Anthony Brands International, White Claw will be making waves this summer at London's All Points East, Mighty Hoopla and Wide Awake, as well as festivals up and down the country including Parklife in Manchester, Loves Saves the Day in Bristol and Boardmasters in Cornwall.
Festival goers will find White Claw a two floor Wave of Summer bar, featuring an LED festoon interactive lighting, 8000 recycled cans forming a complete sensory wave experience, and a new and improved 360° service bar with a purpose-built relaxation spaces. They'll also be giving away VIP festival experiences and loads of merchandise.
Michael Dean, head Of marketing at White Claw says: "The Better-for- you drinking experience was trailblazed by White Claw targeting core Gen Z and Millennials audiences. White Claw doesn't force consumers to choose between having a good time and maintaining a healthy lifestyle, therefore festivals made complete sense, we need to be part of that experience! By supporting a long line-up local and national festivals, our fans won't need to compromise as White Claw will be on hand to offer drinkers lighter alternatives that deliver genuine refreshment."
White Claw Wave of Summer Bar Experience will be appearing at the following festivals:
Wide awake: 28th May
City Splash: 29th May
Love Saves The Day: 2nd – 3rd June
Mighty Hoopla: 3rd June
Cross The Tracks: 5th June
ParkLife: 11th-12th June
Boardmasters: 10th-14th August
All Points East: 19th August
+ 40 other festivals
White Claw's festival line up comes off the back of the recent debut of the brand's new global campaign "Bring the Wave" that celebrates White Claw's mission to bring a new wave of pure optimism to the world. In its new film, while beachgoers run at the sight of dark clouds, 'Big Wave' surfer Caio Vaz charges toward waves amidst the storm - a metaphor for those who take challenges head on, rising above and seeking solutions.
Appearing on-screens across TV and social, the campaign created by VCCP includes original music from American-born, jazz musician Melody Gardot and is directed by award-winning London-based director Sam Brown.