Wall's Pastry is adding a new flavour to its thins range with the introduction of a chicken and chorizo pairing.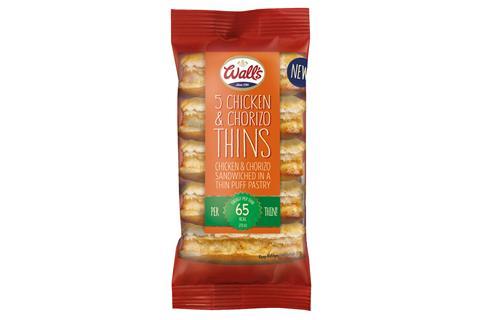 Rolling out now, the new slices each contains 65 calories and the products have been designed to appeal to consumers who enjoy different flavours within traditional chilled pastry.
Since its launch last year, the Wall's thins range has brought incremental sales to the category by tapping into the growing trend for healthier food on-the-go options (IRI 30 December 2018).
Michael Holton, brand marketing manager at brand owner Addo, said: "If ever there was a flavour pairing made in heaven it was chicken and chorizo. The spiciness of the Spanish chorizo adds a vibrant kick to chicken, providing a taste sensation that is then sealed in our delicious Wall's Pastry. At just 65 calories we know this new launch is set to go down a storm with consumers."
Wall's new chicken & chorizo thins carry an rrp of £1.50 per pack of five.