Healthy snacking company Trek has rebranded its entire flapjack range in a move to help shoppers make healthier choices.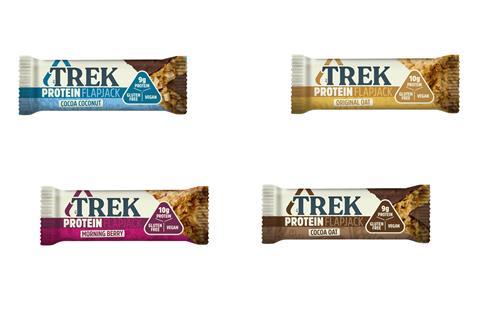 Available to independent stores via Booker, Bestway and health wholesalers, the new look products come in 50g single bars (rrp 90p) as well as multipacks of 3 x 50g (rrp £2.50)
Designed for retailers to stock alongside other snack and energy bars, Trek's flapjacks come in four flavours: cocoa oat; cocoa coconut; original oat; and morning berry.
All variants now feature a triangle emblem on pack, indicating the key benefits of each bar including its protein content and whether it is gluten-free and vegan.
Georgie Crook, Trek brand manager, commented: "We're delighted to be rolling out a fresh new look across our popular range of flapjacks. Having conducted extensive shopper research last year, we are now able to pinpoint how Trek can help shoppers navigate an increasingly crowded and confusing market, by ensuring our bestselling products are easy to find in store.
"Thirty percent of consumers already recognise the Trek brand through association of taste [Trek Brand Health Results, The Nursery, May 2019], so the new look packaging will help these shoppers find our products quicker. The bright, modernised packaging will create stand out on shelf, increasing consumer appeal by 7% for existing customers, while also driving awareness with new consumers, increasing appeal by 16% [SBXL, Trek Shopper Research, March 2019]."