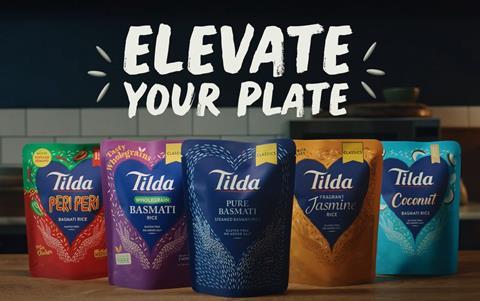 Tilda has unveiled a new advertising campaign, aimed at driving the growth of its steamed rice range.
Launching across TV and Video on Demand, 'Elevate Your Plate' is the first major above-the-line campaign for Tilda's range of steamed rice packs and marks the start of the brand's seven-figure marketing investment into its Ready To Heat (RTH) range.
In addition to the advert, Tilda will be driving awareness with consumers through an intergrated marketing campaign including ads on YouTube, as well as through a targeted PR and social campaign. Tilda will also be pushing the range with instore activity across multiples, online and in convenience.
The campaign hopes to educate consumers on how rice is a vital part of a range of dishes – not something made to merely sit on the side. Head of marketing at Tilda Anna Beheshti explained: "As one of the UK's leading rice brands, we recognise the opportunity that rice, which is such a versatile carbohydrate around the world, offers retailers. As such, we recommend that they stock a wide range of Ready To Heat flavours, including innovative flavours such as Peri Peri and Firecracker rice, to help them drive incremental sales. With more people eating at home than ever before, we know it can be hard for consumers to find the inspiration – or the time – to cook delicious meals day in, day out."