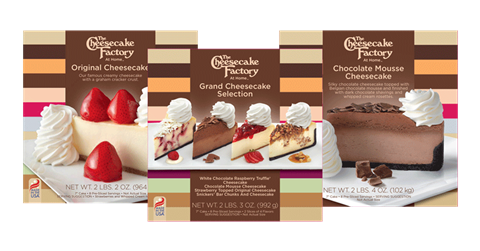 American dessert chain The Cheesecake Factory has launched a range of premium products into the UK grocery, convenience and foodservice sectors.
Distributed by Schengen Desserts in association with Glasgow-based Blaze XK Limited, the range includes its flagship Original, Chocolate Mousse, Red Velvet and Strawberry Topped cheesecakes. The European market will have two ranges – The Cheesecake Factory At Home range for the retail market and The Cheesecake Factory Bakery offering for foodservice.
The retail range is already available for delivered wholesalers to order, and the brand is confirming ranges with Bestway, Lynas and Thomas Ridley who will be able to supply convenience with smaller volumes, launching in December/January.
The single and double slice retail pre-packs have an RRP range of £2.99-£4.99 while whole cheesecakes have an RRP of £9.99 - £29.99, dependent on size.
Brem Bremner, brand director and co-founder of Blaze XK, said: "These are show-stopping, premium desserts from a famous American brand and they are going to go down a storm with consumers looking to treat themselves, especially in these uncertain times when they want something special to enjoy at home.
"The Cheesecake Factory Bakery specialises in decadent, indulgent desserts which are legendary across the brand's restaurant chains in the US and Canada where they enjoy 'icon' status and we are confident that they will soon gain a similar reputation here. Yes, they are high in calories, but they are perfect for special occasions and gifting."
Vicki Heenan, who has been appointed head of sales UK and Ireland for The Cheesecake Factory, added: "For the retail market we can offer a selection of take-home cheesecakes and individual servings and cupcakes along with other products from the At Home range while the Bakery range is targeted at restaurants, cafés, airlines and hotels looking to serve quality cheesecakes that have huge brand appeal."