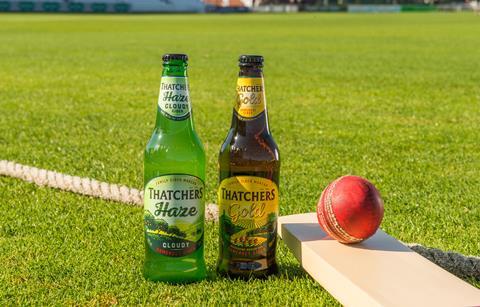 Thatchers Cider has become the Official Cider of the International Cricket Council (ICC) Men's Cricket World Cup 2019.
Running from 30 May to 14 July in 11 venues across the UK, 48 matches will be played in the UK's largest sporting event of the year, giving Thatchers added exposure with branding at stadium bars, as well as a presence on venue screens.
Thatchers Cider managing director, Martin Thatcher, said: "This is a fantastic opportunity to be a part of a major sports occasion that will have the eyes of the global sports community firmly on it. We know sporting events on this scale don't come around very often, and we're delighted to be a part of it.
"Cricket has such a long heritage and tradition, something that as a fourth-generation family company we share and are immensely proud of. So, this partnership with the ICC is a real fit with our brand. We are really excited about bringing our ciders to the World Cup so fans from around the world can add to their enjoyment of some brilliant cricket with a refreshing pint of Thatchers."
In addition, Thatchers Gold and Thatchers Haze will be exclusively available in the eight official fan zones, which are expected to attract upwards of 200,000 fans.