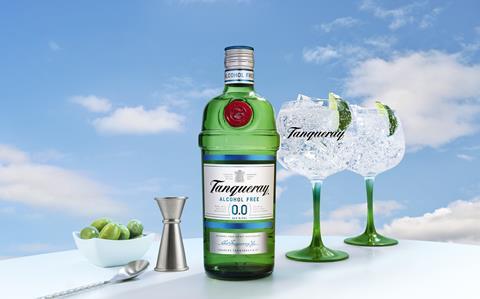 Diageo has launched a new alcohol-free variant of Tanqueray.
Tanqueray 0.0% has been crafted using the same distinct blend of quality botanicals used in the making of Tanqueray London Dry gin including: piney juniper, peppery coriander, aromatic angelica and sweet liquorice. It is also a low-calorie option, with only 6kcals per 50ml. This is not inclusive of tonics as they vary considerably. The RRP for Tanqueray 0.0% is £16 per 70cl bottle.
Diageo is committed to driving innovation within the category and most recently introduced Gordon's 0.0% alcohol free spirit, bolstering the Gordon's portfolio.
Diageo marketing director GB Anita Robinson said: "We know that people are increasingly making more conscious decisions about what they consume, but this doesn't mean that they should have to compromise on taste or experience. We are proud to be launching Tanqueray 0.0%, a delicious alternative for those who choose not to drink for whatever reason.
Our aim was to ensure that we retain Tanqueray's distinctive flavours of piney juniper and faint lemon zest which when mixed with the perfect serve is exquisite in taste. Tanqueray 0.0% delivers a truly authentic, vibrant alcohol-free experience that captures the spirit of Tanqueray perfectly."